AC Repair Chesterfield MO
3 Things You Should Do While Waiting for Your AC Repair Service
You rely on your home's air conditioners to keep you comfortable throughout the hot summer months. However, sometimes things don't go quite according to plan. If you noticed that the temperature keeps creeping up or that the a/c isn't working at all, it is time to call for repair services. Here are three things you can do while you are waiting for ac repair Chesterfield MO that will make it go more smoothly.
Check the Power Source
This is one of the first things you should do if your heating or air conditioning isn't working. In fact, it is probably a good idea to check the power before you call us for a service appointment. Be sure to check the circuit box and any direct connections on the unit itself. Keep in mind that many heat pumps or other electric systems will have a separate circuit breaker panel nearby.
Clear the Area
Spending a few minutes removing large items from around your air conditioners is incredibly helpful. It is much easier for our service technicians to access your equipment if the area is free from clutter and debris. Keeping the area clear also cuts back on the amount of dust that might get into your filters and vents, reducing some of the strain on your unit.
Try To Stay Cool
Excess heat can build up quickly in a house, and that can be potentially dangerous. Increase ventilation by using fans, portable air conditioning units and opening windows and doors. It can also help to close blinds or drapes to block the sun from entering.
Professional Repair Services You Can Trust
Advantage Air offers professional and courteous ac repair Chesterfield MO homeowners can trust.  We are family owned and operated, and have more than 2o years of experience providing heating and air conditioning service to residents of Chesterfield MO and the surrounding St Louis County area. Contact Advantage Air today to schedule your same-day ac repair service.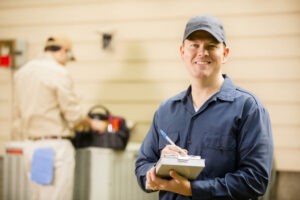 ---
Breaking the Ice on AC Repair With Advantage Air
Like most Missouri cities, Chesterfield is hot and humid in the summer, but as long as your AC is running, you don't mind too much. When your system shuts down in the middle of July, though, you need AC repair Chesterfield MO immediately. Thankfully, each repair technician at Advantage Air is ready to help you regain your cool.
What Services Does Advantage Air Offer?
While we provide AC service in Chesterfield, we're also all-around heating, ventilation, and cooling experts. If you've just ordered a new AC unit and you need help with AC installation, feel confident reaching out to Advantage Air. If you need warm air in the winter and your AC unit is still running, we're happy to provide furnace repair. Every year before you turn on your furnace or AC, have us inspect your system and replace your filters. Our technicians are highly trained and ready to address your heating and cooling issues.
Why Should You Choose Advantage Air?
We've been open since 1999, so we have over 20 years' experience helping Chesterfield residents with air conditioning repairs. Because we're based locally, we treat our customers like neighbors and conduct repairs without invading your privacy or making you feel uncomfortable. We know that your house and property are important to you, so we're respectful of whatever belongings are around your HVAC and electrical systems. Finally, we ensure that all our employees have certifications from one of the most respected trade organizations, the North American Technician Excellence program.
There's nothing worse than losing your cool in the middle of a Chesterfield summer. When your filter is clogged, your air handler belt is broken, or your compressor is overheated, call Advantage Air at 636-230-5572 or contact us online. We'll be over to inspect and repair your HVAC equipment as soon as possible.
How To Get the Most Out of Your Air Conditioning Unit
When the temperatures soar outside, the last thing you want them to do is to follow suit inside. If your air conditioner isn't working properly, though, that is just what will happen. Use these tips to try to get the most out of your air conditioning before you decide if it's right to call someone about AC repair in Chesterfield MO.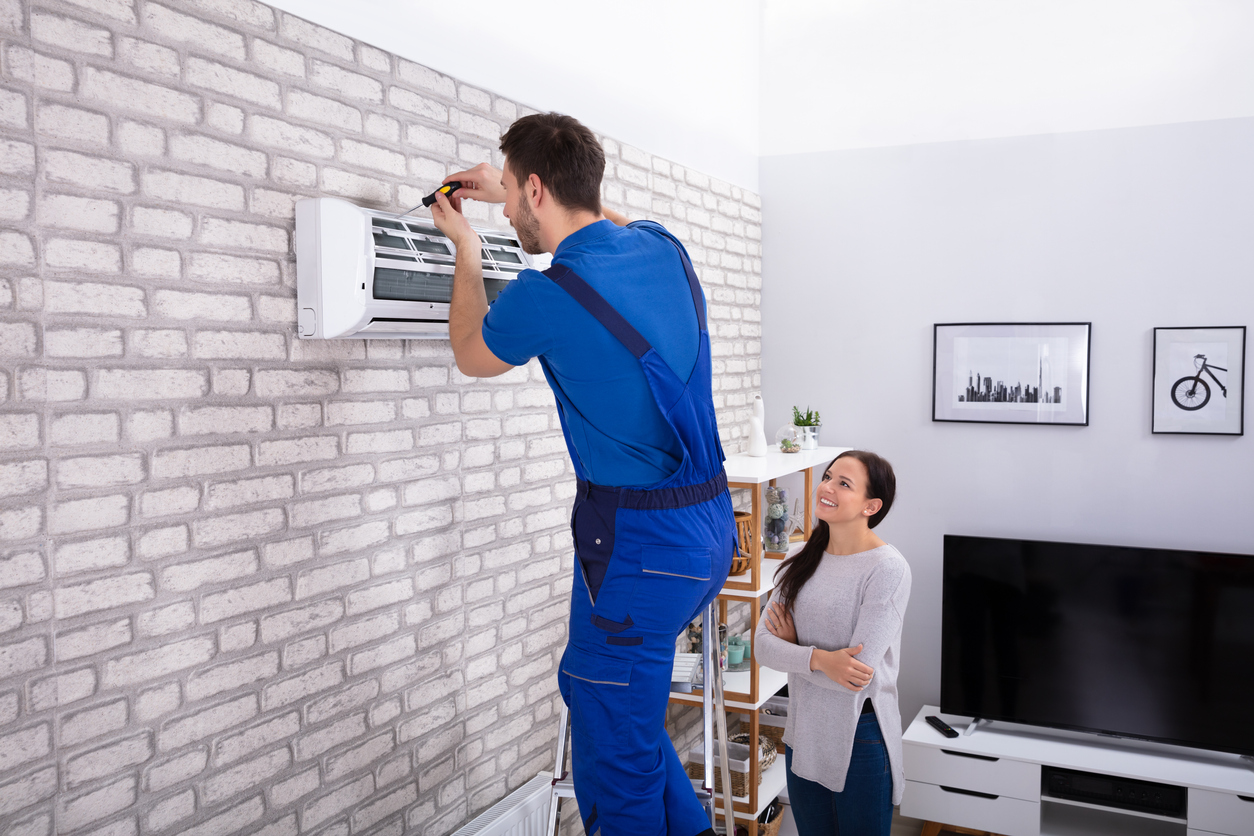 1. Set the Thermostat a Bit Higher
When you aren't going to be home during the day, set your thermostat a few degrees higher. This way, it won't kick on as often and won't use up resources or raise your energy bills. The same is true when there is an unseasonably cool day during the summer. Most people think turning the air off on cool days saves money. While it's true it saves on the energy bill, turning the system back on when it's warm causes it to work harder to cool down, leading to the need for repairs much sooner. Instead, turn the thermostat to 78 on cool days, lowering it when it warms up again. 
2. Supplement the Air Conditioning With Fans
Use ceiling fans, box fans, or tabletop fans to help move the cool air from your HVAC unit around the rooms in your home. When you can, set the fans right next to the vents themselves, which makes it even easier for the air to travel. If the room seems warmer than usual, check to make sure furniture, toys, or other household items aren't blocking airflow. 
3. Hire Someone To Perform Routine Maintenance
Routine maintenance for your HVAC unit is a requirement not only for ensuring you stay cool but for safety purposes. An outdoor unit covered in debris or one that has a lot of dust in the vents not only keeps your air conditioning from working well but also poses a fire hazard, especially when it's time to switch on the furnace. A professional can clean your unit, ensure all its parts are working correctly, and help you create a more energy-efficient home.
Whether you need routine maintenance, AC repair, or an entirely new HVAC unit, Advantage Air can help. Contact us today to schedule a consultation!
AC Repair in Chesterfield, MO
Have you ever been without air conditioning in the dead heat of a Chesterfield, MO summer? If so, you know firsthand how important it is to make sure your HVAC system is always in good working order. If you have any suspicions that you need AC repair Chesterfield MO services, it's important to call Advantage Air right away. We'll come out and look at your air conditioning system to make sure any necessary repairs are conducted quickly and properly.
Why Choose Advantage Air?
There are a variety of AC service companies in St. Louis County and the surrounding areas. So why should you call Advantage Air when you need AC or furnace repair? For one thing, we are completely committed to providing exceptional customer service. Additionally, we offer the following:
Professional, prompt AC service and repairs
Certified and highly-trained technicians
Unparalleled skill working with a wide variety of AC systems
Reasonable service rates
Annual maintenance options
Your comfort inside your home or building is our top priority. We'll get to the bottom of your AC system's specific problems and let you know if we can fix the issue or if we recommend replacement of your AC unit.
Most air conditioning systems can last anywhere between 10 and 20 years, but the overall life expectancy depends largely on how well you care for your unit. With annual maintenance services, you can help extend the lifespan of your AC system and save money in the long run. Regular maintenance appointments are more affordable than emergency repairs or premature furnace replacement due to serious issues that weren't caught early.  
Schedule Your AC Repair Appointment Today
If you're ready to get to the bottom of your AC system's issues, we invite you to schedule an AC repair Chesterfield MO appointment right away. Contact us online or by phone and we'll be happy to help you set up an appointment as soon as possible.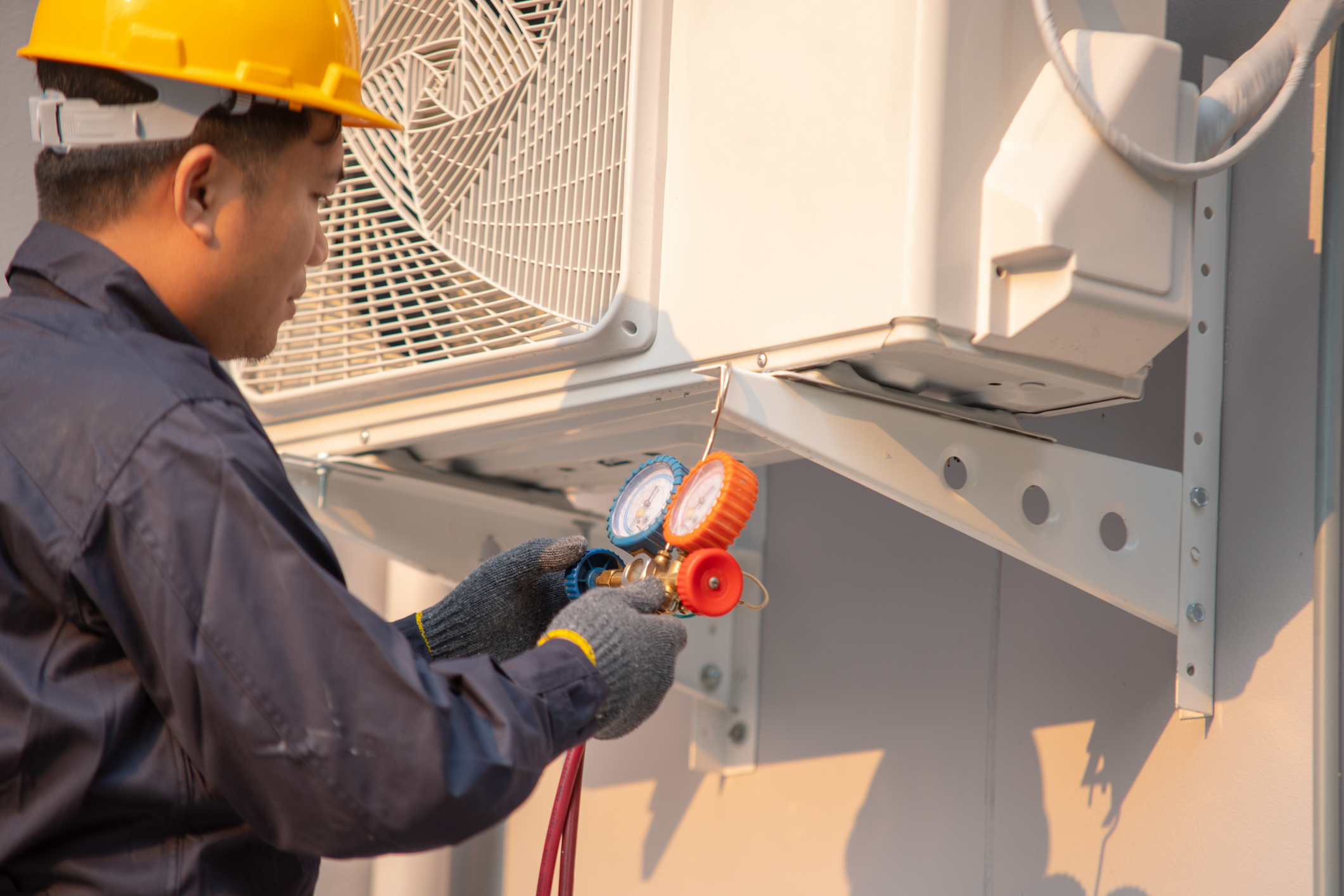 Stay Cool With AC Repair and Maintenance
Air conditioning makes any indoor environment more comfortable. When temperatures outside are high, you may need to arrange to have your air conditioner serviced to ensure your AC unit is performing at optimum levels. Advantage Air provides high-quality air conditioning service and AC repair Chesterfield MO to help your home stay cool.
The Importance of Air Conditioning Maintenance
For an AC unit to provide cool air effectively and efficiently, regular maintenance is essential to ensure your air conditioning system is performing properly. A poorly functioning air conditioning system can increase energy costs, reduce indoor air quality, and fail to cool all of a space. Routine maintenance keeps your system running smoothly so your home stays comfortable during the summer season and year-round.
Situations To Call for Service
If your AC system doesn't feel like it cools the house as well as it used to, or perhaps your energy bill is noticeably higher, it may be time to seek AC repair from a trained professional. Several issues can negatively impact AC unit performance, such as an air filter that needs replacement or even a thermostat that is not set correctly.
A skilled technician can inspect and diagnose these problems and correct them to ensure that your air conditioning system functions properly. If your home is in need of air conditioning repair or maintenance, schedule service immediately to avoid any potential damage to your system.
HVAC Services and AC Repair Chesterfield MO
In addition to AC repair, Advantage Air carries out service calls for furnace repair, commercial HVAC, and other heating and air conditioning services. We have proudly provided trusted customer service for our residential and commercial clients in the greater St. Louis area for over 20 years. Please contact us to schedule a consultation with one of our professional heating and cooling specialists.