What Happens During an AC Repair Service Call?
St. Louis area homeowners know how important a properly working air conditioning system is to combat the sweltering summer heat. That's why, when your ac isn't running right, you call Advantage Air for fast and professional ac repair Ellisville MO service. Do you know what happens during a service call, though? Keep reading to find out the steps our technicians take when they come out to repair your cooling system. 
Inspection and Cleaning
The first step our certified technicians will take when they come out to perform ac repair Ellisville MO is to inspect your air conditioner. We'll go over the entire unit to look for obvious signs of trouble, such as:
Loose connections
Broken or leaking pipes
Frayed wiring
Damage to the housing
Clogged filters or ductwork
We'll also give it a thorough cleaning inside and out. Dirt and dust buildup can cause serious problems for a home's heating and cooling system, so this is an important step that goes way beyond appearances. If your ac has an air filtration system attached, keeping it clean will help maintain indoor air quality, too. 
Comprehensive Diagnostics and Repairs
Many times, the problems that are causing your unit to malfunction aren't as obvious as a broken wire. All Advantage Air technicians are trained in the latest diagnostic techniques, so they will get to work uncovering any issue within your ac system. Once the problem has been identified, we'll replace any worn or faulty parts and make the repairs necessary to get your system back up and running as quickly as possible.
Advantage Air is a leading provider of ac repair Ellisville MO. Whether your system has stopped working, isn't cooling as it should, or just needs a routine tune-up, we have the expert knowledge and skills to get the job done right.  Contact Advantage Air today at (636) 230-5572 to schedule your service call. 
---
3 Easy Steps You Can Take to Minimize Your Need for AC Repair
Have you ever had your AC system break down or malfunction at the most inconvenient time? For many homeowners, summer AC failures are an unfortunate part of life. While AC repair in Ellisville MO is something you'll inevitably need if you have an AC system long enough, it doesn't have to be a common occurrence. Most of the time, common HVAC system failures can be avoided by doing a few simple things to ensure the integrity of your system year-round. Here are five easy steps you can take to minimize your need for air conditioning repairs this year.
1. Keep Your HVAC System Coils Clean
Your HVAC system contains air conditioning coils. They help the refrigerant cool down your home. It's normal for these coils to become caked with dirt over time, which impacts their ability to function properly. When the coils are too dirty, your air conditioning system has to work much harder to cool down your home. Cleaning the coils regularly is important for good air conditioner function. If you don't know how to clean them yourself, hire one of our repair technicians to come do it for you.
2. Change Your Air Filter Frequently
One of the easiest things you can do for the health of your AC units is to clean the air filters regularly. WE recommend that you clean them at least once every three months. This will ensure that dirty air and particulate matter doesn't bog down our air filters and cause them to lose their efficiency.
3. Maintain Professional Maintenance Appointments
The HVAC repair technicians here at Advantage Air know how to keep maximize your home comfort by performing AC repair services as needed. We can get you set up with a maintenance plan so you know your AC system is in good hands and in good working order.
Contact Us
Ready to schedule your AC repair Ellisville MO service? Contact us today and we'll come out as soon as we can.
How an HVAC Service Helps You Cool Down
If you've ever had your cooling or heating system stops working, you know how important it is to have a company that provides AC repair in Ellisville MO. Whether your AC won't turn on or it's making weird noises, getting AC repair quickly is a must. At Advantage Air, our team is ready to help with these problems and all things HVAC.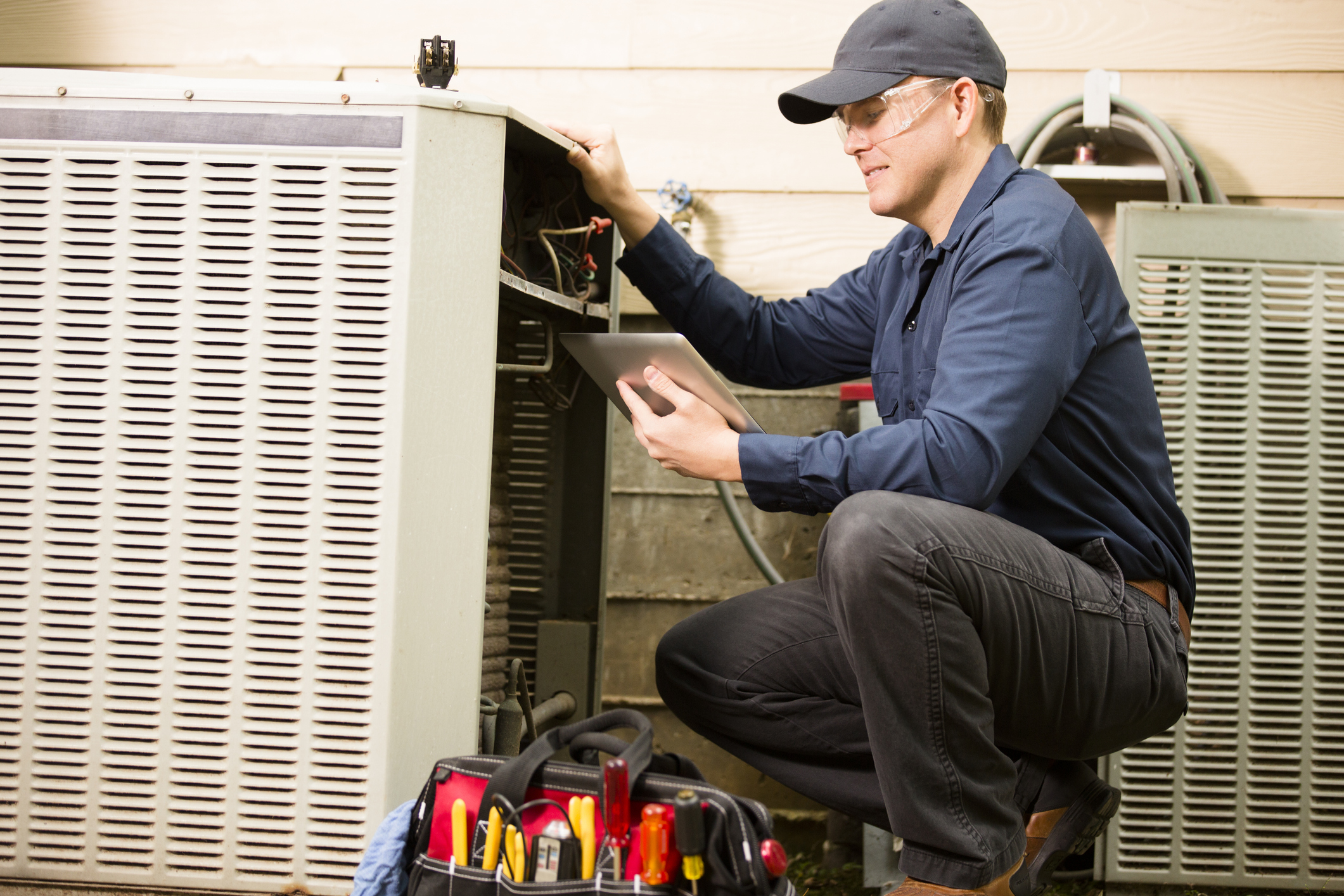 Regular Maintenance
Before you turn on your furnace or AC system for the first time, you need a thorough inspection to make sure that your filters are clean and all the mechanics are operating smoothly. During the inspection, our contractors also see how well your air is circulating and look at your wiring to make sure it's not frayed or short-circuited. Investing in these appointments prevents your HVAC system from shutting down completely, starting a flood, or causing a fire.
AC Replacement
If your AC is completely broken or if you want to upgrade to a more efficient system, you need a professional to handle the replacement process. From picking the right size and motor to installing the system and turning it on, AC replacements are complicated. To ensure that your new system works and that you stay within your machine's warranty conditions, ask a professional for help.
AC Repair
Sometimes, your AC isn't working well, but the problem is fixable. Small problems with your thermostat, refrigerant, and capacitors can lead to huge problems with your home comfort. Attempting AC repairs on your own can be dangerous and costly, so ask a professional for help when your AC won't turn on or when it's blowing hot air.
Keeping cool in Ellisville is a big task, especially if your AC isn't working. For all your HVAC needs, let the team at Advantage Air take the heat.
Call today at 636-230-5572 or fill out our form to get started.
Your Top Pick for AC Repair Ellisville MO Services
When it comes to the health of your AC unit, you need to make sure you're hiring a reputable company to come perform maintenance and repair services. Fortunately, Advantage Air has a great reputation for providing top-quality air conditioner repair services. We have many years of experience serving residents of Ellisville and surrounding areas. We enjoy preparing commercial and residential businesses for intense St. Louis summers by inspecting their air conditioning systems and making sure they're running properly.
How Can We Serve You?
One of the first questions we ask our customers is "how can we serve you?" We want to make sure we're meeting your needs and expectations when it comes to your cooling system. Here are a few of the top reasons you can trust us with your AC unit:
Our technicians are all very skilled in the industry and are certified
We offer financing options for those who meet our minimum qualifications
We offer emergency air conditioner repair services
We have years of experience maintaining and repairing all types of AC units
Your satisfaction is our top priority
There are a variety of parts within an AC unit that can stop working properly over time. When something goes wrong, you're suddenly left without a reliable source of cooling in your home. This can be both uncomfortable and dangerous to your health during the hottest months of the year. Whether your AC system has weak airflow or the unit is constantly turning itself on and off, we'd love to come out and troubleshoot the problem, then fix it as quickly as possible.
Contact Us Today
If you're unhappy with the way your AC system is working (or not working!) or if you've recently noticed your energy bill skyrocketing for seemingly no reason, please contact us. We'll come out and check out the problem and provide you with reliable AC repair Ellisville MO services.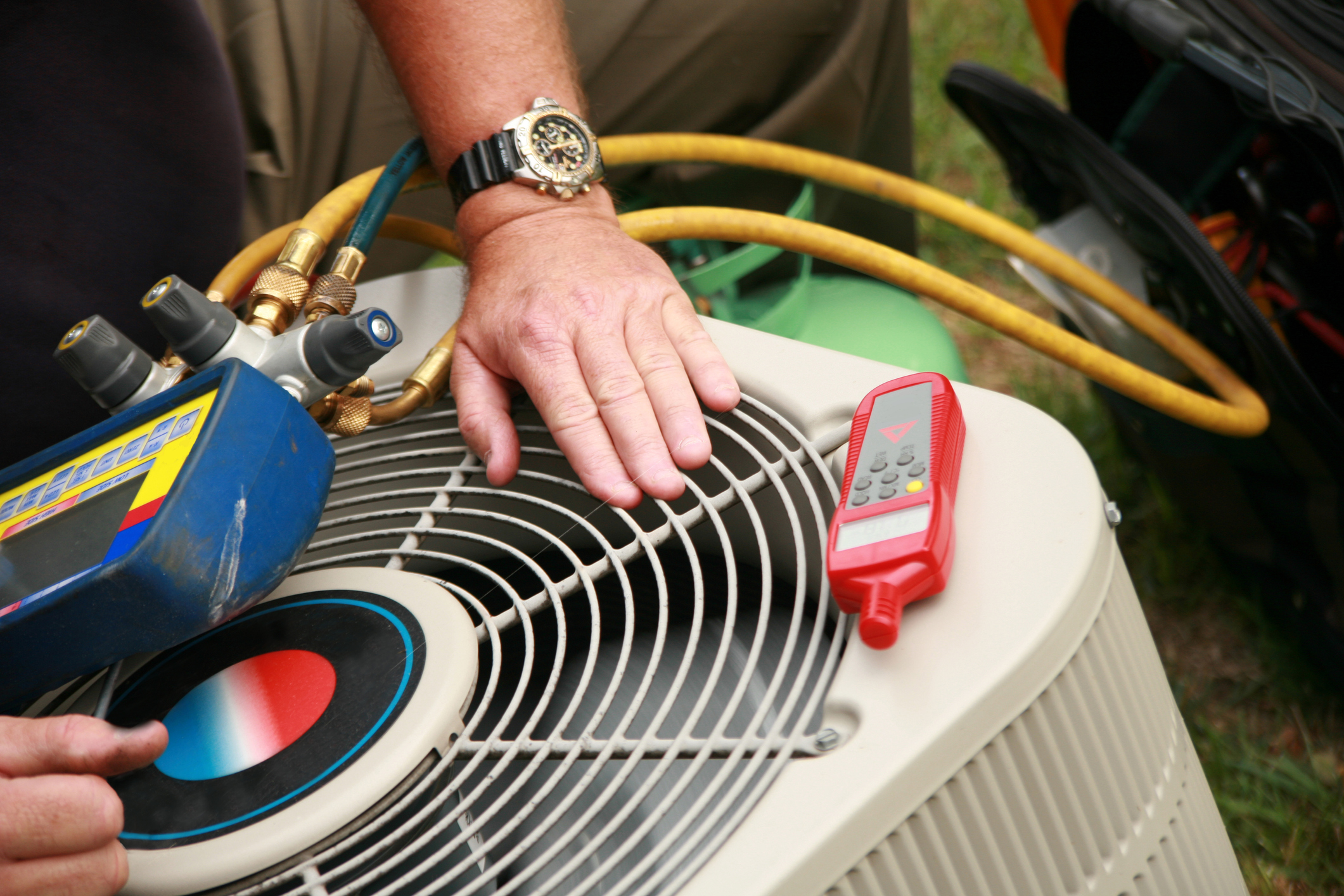 Things You Should Know About AC Repair
Many homeowners don't pay a whole lot of attention to their air conditioner until something goes wrong. Unfortunately, that often happens on what seems to be the hottest day. So instead of suffering through the unbearable heat with a broken ac unit, take a few minutes to learn a few things about ac repair Ellisville MO homeowners should know.
AC Maintenance Plans Reduce the Need for Repairs
Many homeowners forego regular ac maintenance to save on costs. However, regular maintenance of your HVAC system can help keep it running more efficiently and cut done on the need for emergency ac repair Ellisville MO. For many households, they can reduce the overall cost of operating heating and cooling systems.   
Signs You Need AC Repair Ellisville MO
Maintenance can help cut back on the need for repairs, but it can't eliminate it. That is why you should know the signs of air conditioning system trouble. Some of the most common reasons homeowners schedule AC repair Ellisville MO include:
Uneven cooling through the house

New or loud sounds coming from the air conditioner

Unusually high energy bills when running the AC unit

The system is taking longer than usual to cool your home
When a New Air Conditioner Makes More Sense Than Repairs
It makes more sense to invest in a new HVAC system in some cases instead of constantly fixing a broken unit. This is often the case with older ac units, where a new ac system will be substantially more efficient and produce lower energy bills that help offset the initial investment.   
Professional AC Repair Ellisville MO
Advantage Air offers professional ac repair service in St. Louis and the surrounding area. Our courteous and skilled repair technicians can provide emergency ac repair and regular maintenance to keep your unit running smoothly. So don't suffer through a hot summer without air conditioning; contact us today to schedule your service.