Exploring Your Options for Attic Insulation
During a visual inspection or technician's visit, you learned your attic's insulation requires replacement. The right insulation in your home helps keep you and your family comfortable throughout the year and keeps your energy bills under control. Advantage Air specializes in quality attic insulation Ballwin MO, and we want to educate our customers on their options for quality insulation.
Fiberglass
Because of the cost, ease of installation and efficiency, many homes have fiberglass insulation. If you prefer environmentally friendly insulation, you may want to reconsider fiberglass. The insulation material can release particles into the air that can aggravate your respiratory system, skin and stomach. This makes it vital to wear proper protection when handling fiberglass.
Loose-Fill
Compared to fiberglass, loose-fill insulation is one of the more sustainable types of attic insulation. Made of scraps and recycled paper, this insulation works great in older properties that have crossbeams, vents or level roofs. While loose-fill insulation easily compacts around vents and ducts, you must take care that the insulation does not get wet. Moisture triggers mold, which can cascade into several additional problems. Before installing loose-fill insulation, have a professional check your attic and roof for signs of water infiltration.
Spray Foam
You'll be hard-pressed to find insulation with a higher R-value than spray foam, which offers energy efficiency. Much like loose-fill insulation, spray foam insulation does a great job of filling crevices and gaps in your attic. If you're committed to choosing this option, talk to attic insulation professionals about whether you'll need a vapor barrier.
Rock Wool
Made from recycled products and mineral wool, rock wool offers eco-friendly insulation. Another great thing about this insulation is you may easily manipulate it into the shape and size you need for spaces around vents, outlets and obstructions.
Learn more about which insulation works best for your home, budget and needs. Contact an Advantage Air representative at 636-230-572 or submit an online form.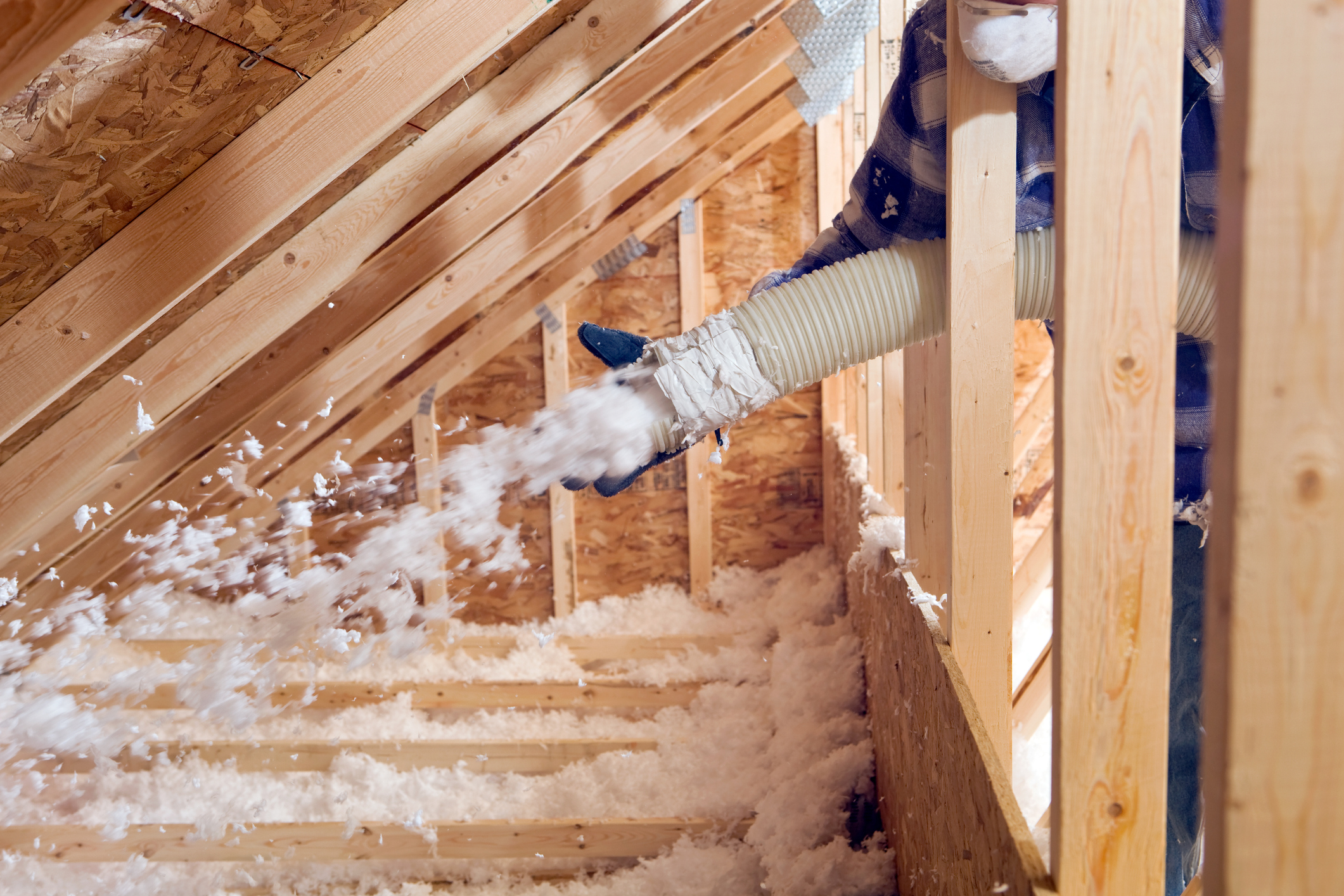 4 Common Types of Attic Insulation and How To Choose the Right One for Your Home
There are four main types of attic insulation available today.  Familiarizing yourself with them will help you weigh the advantages and disadvantages of each so that you can find the right type of attic insulation Ballwin MO for your home.
Factors Affecting Your Decision
Updating attic insulation is a substantial home improvement project. As such, which type of insulation you choose will be guided by your personal preferences and priorities. Consider this brief summary of common factors that affect insulation choice:
Environmental concerns
Desired efficiency improvements
Shape and size of your attic
Moisture levels
Fire risk
Budget
Common Types of Attic Insulation
Loose-fill: Sometimes called blown-in insulation, loose-fill is blown into an attic space with specialized equipment. It is great at filling around unusual spaces or for reaching areas with short ceiling heights. Loose-fill can be made from new or recycled materials.
Fiberglass: Available in bats and rolls, fiberglass insulation can be difficult to work with. It can also cause skin and respiratory system irritation without proper precautions.
Spray Foam: If R-value is the most important thing on your list, then spray foam insulation may be the right type for your attic. It improves energy efficiency more than any other type but must be professionally installed. There are two types of spray foam insulation: open cell and closed cell. 
Rock Wool: An eco-friendly insulation material that offers a high R-value, rock wool comes in bats or mats and is relatively easy to handle.
Find the Right Attic Insulation Ballwin MO
Each attic space is different, and so are the wants and needs of individual homeowners. That is why you need to carefully consider the pros and cons of each type of insulation before deciding which one is right for your space. At Advantage Air, we have more than 20 years of experience keeping St. Louis area homeowners comfortable. Contact us today to schedule your attic insulation consultation.