Exploring Your Options for Attic Insulation
During a visual inspection or technician's visit, you learned your attic's insulation requires replacement. The right insulation in your home helps keep you and your family comfortable throughout the year and keeps your energy bills under control. Advantage Air specializes in quality attic insulation Ballwin MO, and we want to educate our customers on their options for quality insulation.
Fiberglass
Because of the cost, ease of installation and efficiency, many homes have fiberglass insulation. If you prefer environmentally friendly insulation, you may want to reconsider fiberglass. The insulation material can release particles into the air that can aggravate your respiratory system, skin and stomach. This makes it vital to wear proper protection when handling fiberglass.
Loose-Fill
Compared to fiberglass, loose-fill insulation is one of the more sustainable types of attic insulation. Made of scraps and recycled paper, this insulation works great in older properties that have crossbeams, vents or level roofs. While loose-fill insulation easily compacts around vents and ducts, you must take care that the insulation does not get wet. Moisture triggers mold, which can cascade into several additional problems. Before installing loose-fill insulation, have a professional check your attic and roof for signs of water infiltration.
Spray Foam
You'll be hard-pressed to find insulation with a higher R-value than spray foam, which offers energy efficiency. Much like loose-fill insulation, spray foam insulation does a great job of filling crevices and gaps in your attic. If you're committed to choosing this option, talk to attic insulation professionals about whether you'll need a vapor barrier.
Rock Wool
Made from recycled products and mineral wool, rock wool offers eco-friendly insulation. Another great thing about this insulation is you may easily manipulate it into the shape and size you need for spaces around vents, outlets and obstructions.
Learn more about which insulation works best for your home, budget and needs. Contact an Advantage Air representative at 636-230-572 or submit an online form.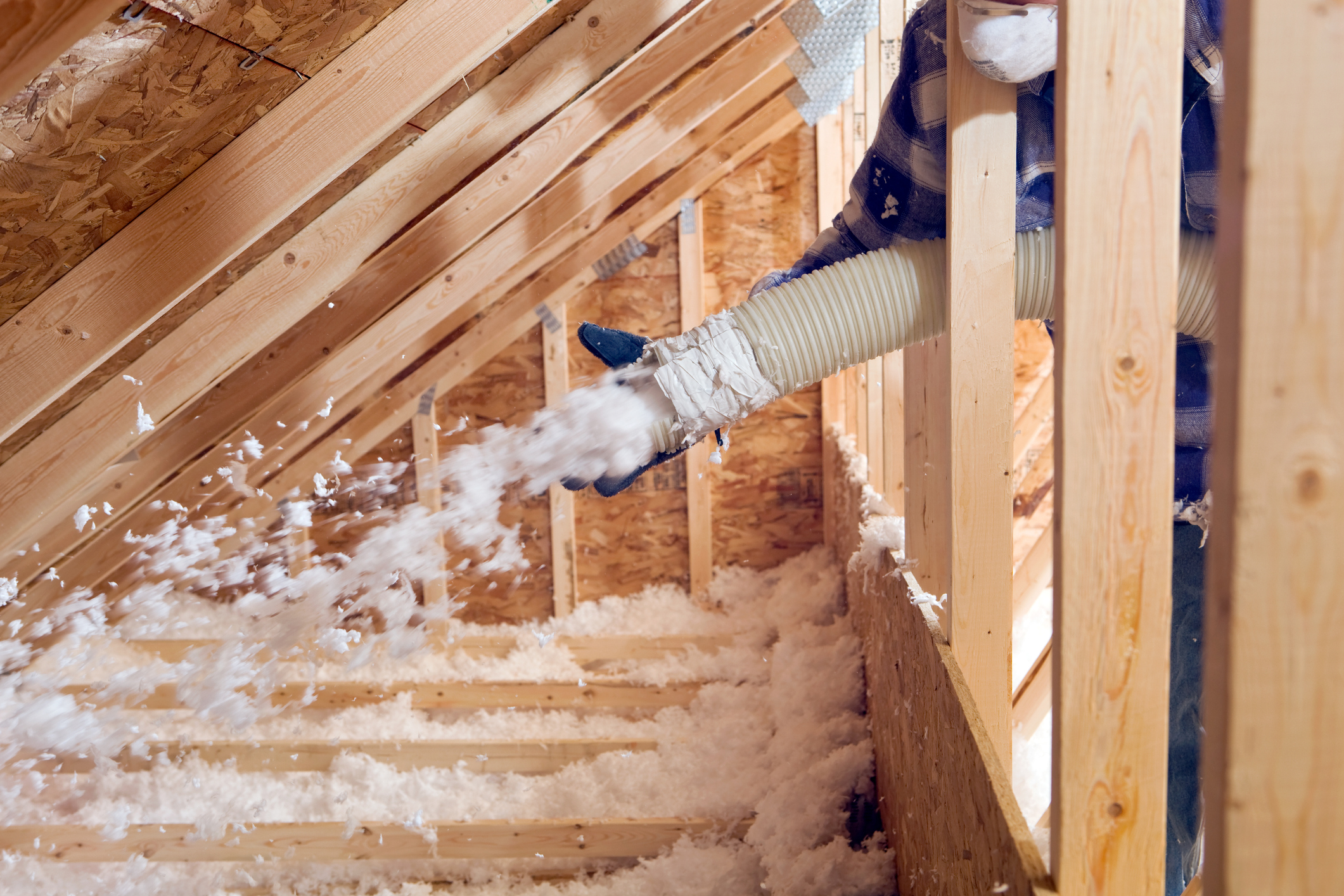 4 Common Types of Attic Insulation and How To Choose the Right One for Your Home
There are four main types of attic insulation available today.  Familiarizing yourself with them will help you weigh the advantages and disadvantages of each so that you can find the right type of attic insulation Ballwin MO for your home.
Factors Affecting Your Decision
Updating attic insulation is a substantial home improvement project. As such, which type of insulation you choose will be guided by your personal preferences and priorities. Consider this brief summary of common factors that affect insulation choice:
Environmental concerns
Desired efficiency improvements
Shape and size of your attic
Moisture levels
Fire risk
Budget
Common Types of Attic Insulation
Loose-fill: Sometimes called blown-in insulation, loose-fill is blown into an attic space with specialized equipment. It is great at filling around unusual spaces or for reaching areas with short ceiling heights. Loose-fill can be made from new or recycled materials.
Fiberglass: Available in bats and rolls, fiberglass insulation can be difficult to work with. It can also cause skin and respiratory system irritation without proper precautions.
Spray Foam: If R-value is the most important thing on your list, then spray foam insulation may be the right type for your attic. It improves energy efficiency more than any other type but must be professionally installed. There are two types of spray foam insulation: open cell and closed cell. 
Rock Wool: An eco-friendly insulation material that offers a high R-value, rock wool comes in bats or mats and is relatively easy to handle.
Find the Right Attic Insulation Ballwin MO
Each attic space is different, and so are the wants and needs of individual homeowners. That is why you need to carefully consider the pros and cons of each type of insulation before deciding which one is right for your space. At Advantage Air, we have more than 20 years of experience keeping St. Louis area homeowners comfortable. Contact us today to schedule your attic insulation consultation.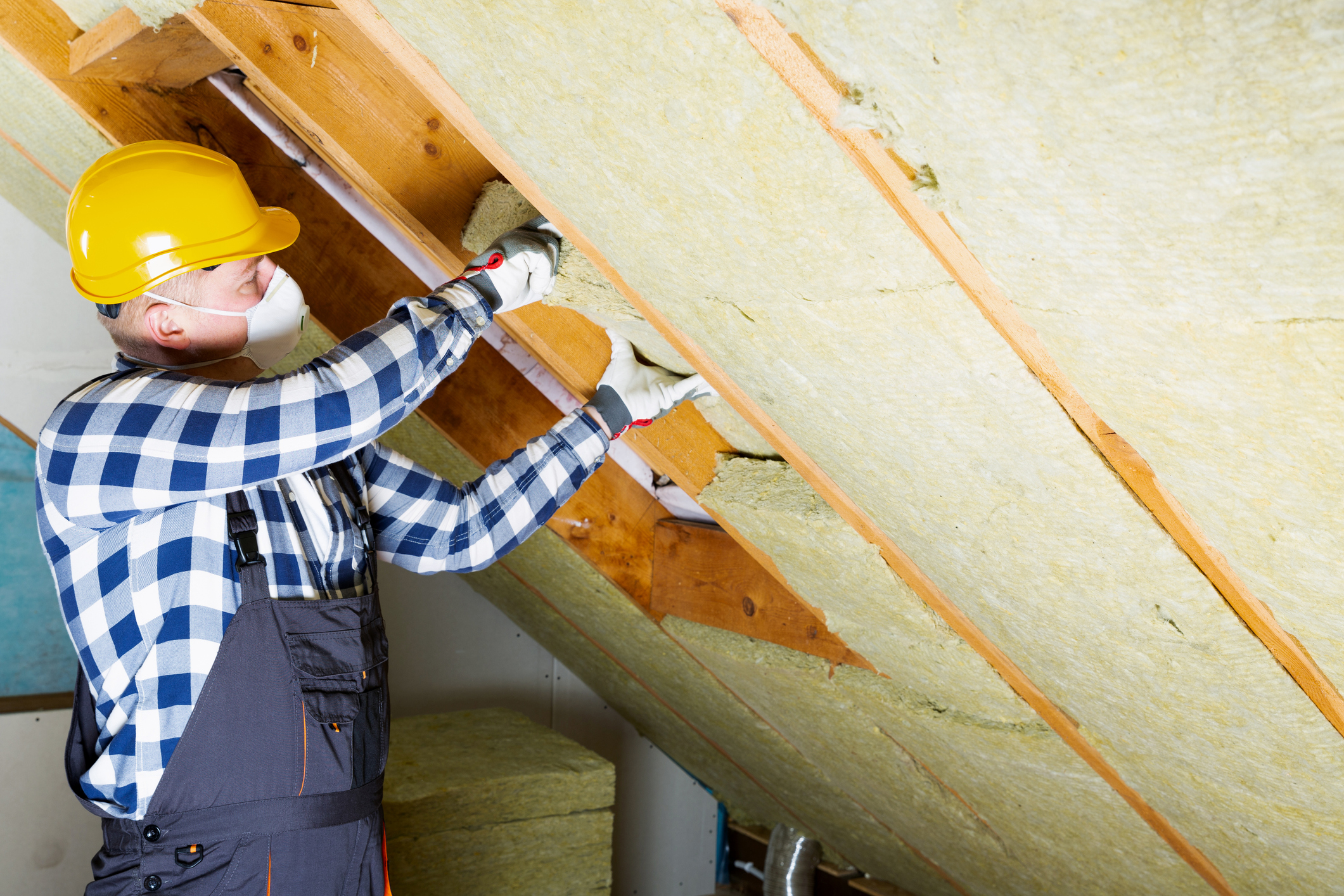 Your Insulation Options in Ballwin MO
The right attic insulation can help prevent you from feeling the effects of extreme weather shifts and the seasonal changes that occur in Ballwin MO. The insulation in your home helps keep you warm in the winter and cool in the summer, and it plays a vital role in your home's energy efficiency. To make sure your attic space is properly insulated, turn to Advantage Air for the attic insulation Ballwin MO residents use.
Protect Your Home From Moisture
When used in conjunction with the right ventilation and roofing system, insulation materials acts as a vapor barrier. As the Department of Energy instructs, use insulation with a high R-value rating to increase the efficiency of your home. Across the different types of attic insulation is a wide range of R-values, but those with the higher rating will have a greater thickness and density.
Weigh Your Options
Fiberglass insulation is a cheap, cost-effective way to insulate a home, and it was of the more widely used with regard to insulation material. It must be cut very accurately around vents, beams and obstructions it if wants to retain its R-value. Loose-fill is another option that is starting to gain an edge on fiberglass, and the nature of older homes makes it more convenient to thoroughly fill in the gaps and spaces. Loose-fill is a blown-in insulation that is very sensitive to moisture, so be sure to check moisture levels in an attic. Spray foam insulation has a higher R-value than these other options and is considered an eco-friendly option.
Turn To the Attic Insulation Ballwin Mo Professionals
If you are looking for a quality, efficient insulation installer, contact the team at Advantage Air. You won't achieve maximum results with heating and cooling efficiency unless the proper insulation material is chosen for your attic. Speak to the experts for guidance in making the right choice.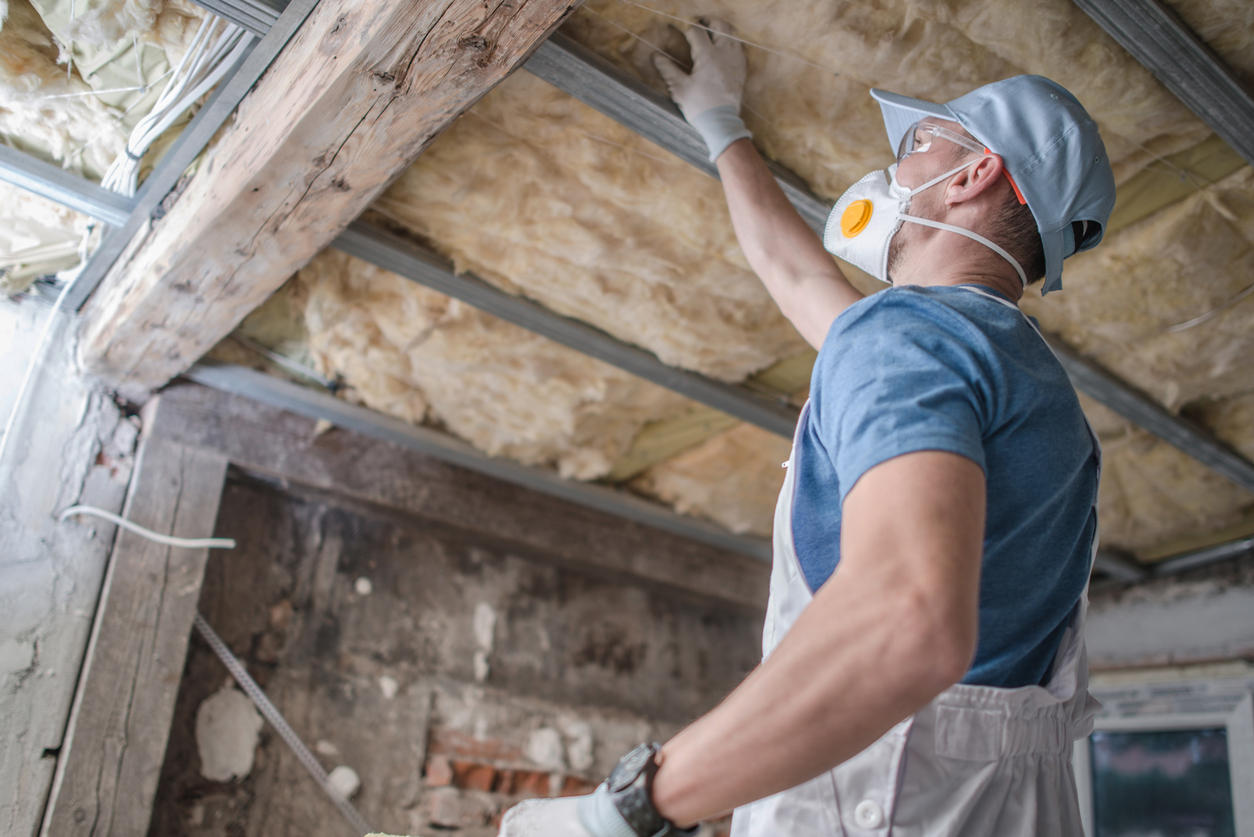 A Quick Guide To Attic Insulation Options
According to the U.S. Department of Energy, proper attic insulation can lower your heating costs by up to 50%. In fact, a home loses as much as 85% of its heat through the attic when it isn't properly insulated. Choosing the right attic insulation Ballwin MO to meet your needs is important.
Common Types of Attic Insulation
There are four common types of attic insulation, each with its own advantages and disadvantages.
Fiberglass –The most common type of insulation due to its effectiveness, easy installation, and affordable price, fiberglass is available in rolls and is ideal for attics that have standard spacing between joists. Its cuts must be very accurate to maintain the R-value around vents and batts are not considered eco-friendly.
Loose-Fill Insulation –Loose-fill options are becoming more common because it's often made from recycled paper and is more eco-friendly. It also works better for old homes, homes that have many obstructions, or those that have unique shapes. However, it is a fire hazard when used around recessed can lighting. You may also see it referred to as blow-in insulation.
Rock Wool Insulation –The best option for those looking for something eco-friendly, rock wool is made from mineral and recycled products. They are cut to size to be accurate and can be precisely cut around obstructions. It is also heat- and moisture-resistant. It's known to slow fires and can get wet while remaining good as new once it dries.
Spray Foam Insulation – Featuring one of the highest R-values, spray foam is energy-efficient but must always be placed by professionals. It seals gaps, reaches into hard-to-reach areas, and is an excellent choice when a vapor barrier is necessary. Price varies depending on whether you choose open-cell or closed-cell options.
Choosing the Right Insulation
If you need insulation in your home, it is a good idea to talk to a professional about attic insulation in Ballwin, MO. Advantage Air can help you determine which option will best meet your needs for your budget as well as energy efficiency. Contact us today!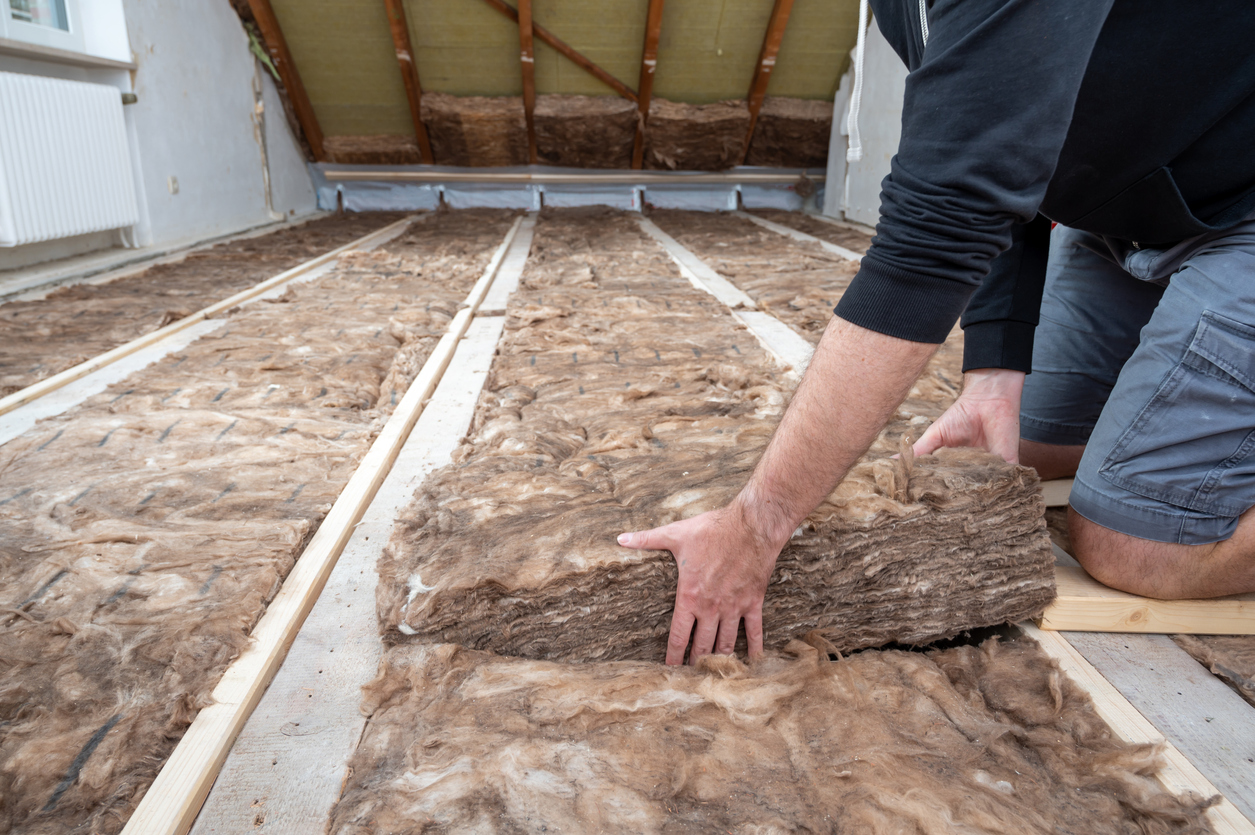 How To Find the Right Type of Attic Insulation for Your Home
Are you noticing that your HVAC unit has been running more than usual? It may be due to poor insulation in your attic leading to heat loss. If so, it's time to explore options for increasing your attic insulation Ballwin MO. This brief guide can help you get started.
Understanding R-Values
The R-value of insulation is how well it stops heat flow between spaces. The higher the number, the less heat can pass through. According to the Department of Energy and IECC guidelines, the St Louis area falls in zone 4, with a recommended ceiling R-value of R38 – R60. However, many older homes will not meet those standards. If that is the case, you may want to add insulation in your home or attic space.
Different Types of Attic Insulation
You can choose from several types of insulation material for your home. The most common options include:
Fiberglass insulation

— Available in batts and rolls, this is an economical choice that is easy to install in most attic spaces. 

Loose fill insulation

— Sometimes called blown-in insulation, this is usually installed by a professional. It is an excellent choice if you want to increase the R-value of existing attic insulation Ballwin MO; however, it will settle over time, reducing its effectiveness. 

Spray foam insulation

— There are two types of spray insulation: open cell and closed cell. This offers superior insulation efficiency but is best left to a professional insulation installer. Closed-cell foam provides the added benefit of also serving as a vapor barrier.  
Choose the Right Attic Insulation Ballwin MO
There is no one "right" type of insulation. Each has a unique set of properties that may or may not be important to you. Our specialists at Advantage Air can help you understand the unique qualities of the different types of insulation for your home so you can make an informed decision.
Advantage Air has provided courteous and professional service to Ballwin-area homeowners for more than twenty years. Contact us today to learn more about adding insulation to your home.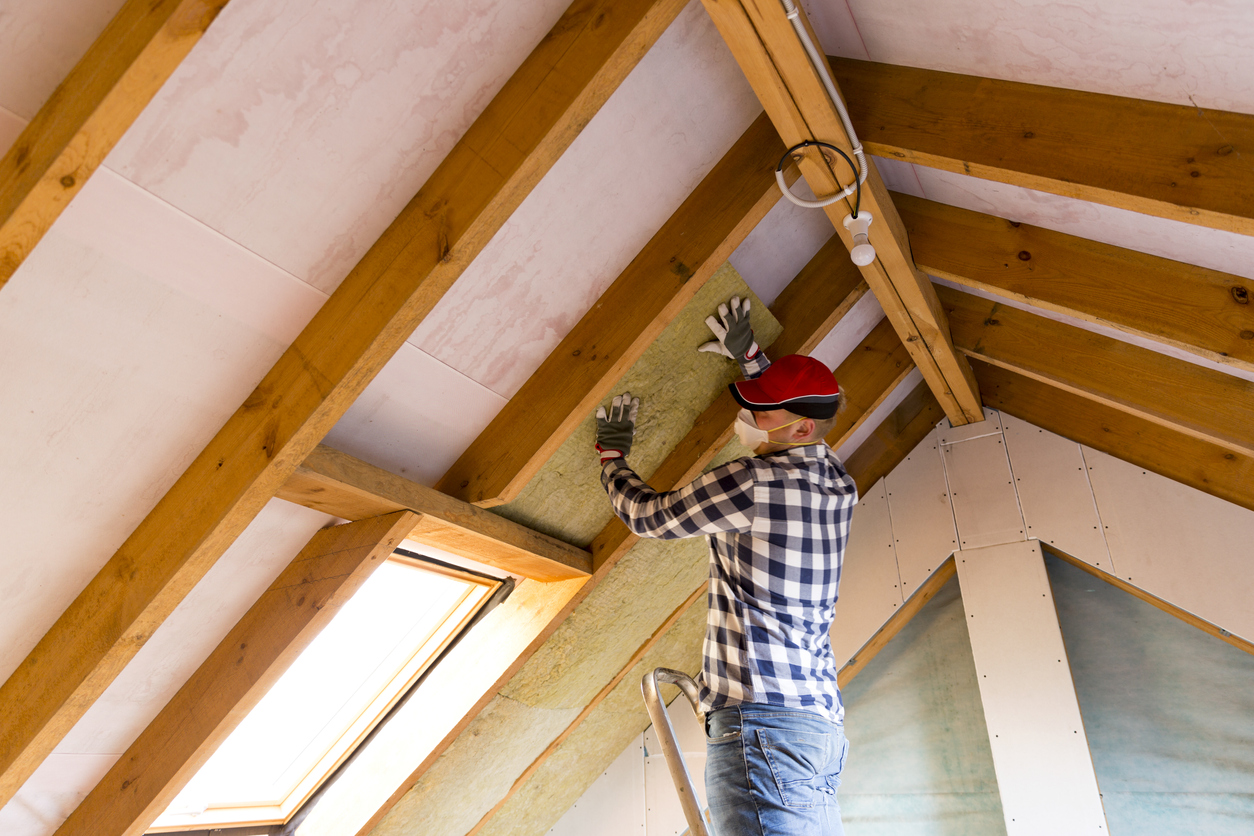 Your Guide to Attic Insulation Types
The type and amount of insulation in your attic can make a big impact on your home's energy efficiency. If you're thinking about scheduling attic insulation Ballwin MO, it's important to study the different types of insulation available to you. Here is a brief guide to the different attic insulation types.
Attic Insulation Ballwin MO Options
When it comes to installing insulation in your home, you have several options from which you can choose. They include:
Blown in insulation

Loose fill insulation

Fiberglass insulation

Spray foam insulation

Cellulose insulation
The more you understand about each of these insulation types, the easier it will be to choose the proper insulation for your attic.
Blown In Insulation
Blown in insulation gets its name from the process used to install it. This type of insulation material is literally blown into your attic to fill up all the crevices and crannies you may not be able to see.
Loose Fill Insulation
Loose-fill insulation is made from loose particles that are typically blown into your attic using specialized equipment. Loose-blown insulation can neatly fill spaces around ducts, pipes and other hard-to-reach areas. It is sensitive to mold, though, so it's important to make sure you don't have any attic leaks before installing it.
Fiberglass Insulation
This type of insulation comes in rolls or batts and is the most widely used type of insulation. It's very effective and affordable.
Spray Foam Insulation
This type of insulation has a high R-value (which means it's very effective at insulating). Spray foam insulation should always be done by professionals.
Cellulose Insulation
Cellulose insulation is made from plant fiber or paper. It is thick and clumpy and is frequently used in attics to fill up empty spaces.
Learn More About Proper Insulation
If your attic isn't properly insulated, you could be spending more on energy costs than you should. To improve your energy efficiency, schedule an appointment with one of our trusted insulation installers today.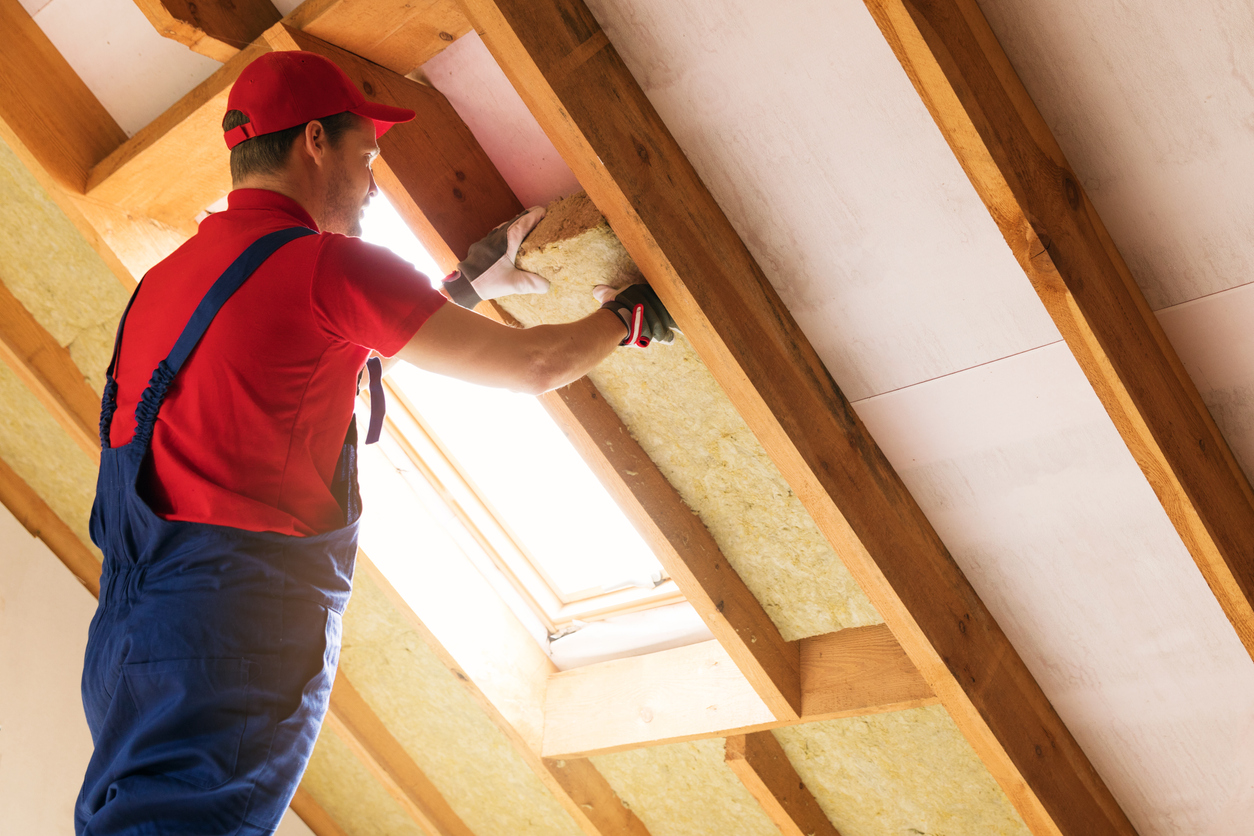 A Guide to Understanding Types of Attic Insulation
If your attic is drafty or dank, poor insulation is likely the cause. Proper insulation maximizes the efficiency of your heating and cooling systems. A well-insulated attic space, combined with sturdy roofing and adequate ventilation, also prevents moisture in your home. Learn more about attic insulation Ballwin MO to determine what's needed for your home.
What You Need to Know About the Types of Attic Insulation
Types of insulation differ in price, energy and R-value, which is the measure of an insulation material's resistance to heat flow. The higher the R-value, the more effective the insulation. The Department of Energy offers guidelines for estimating required R-values based on climate zone. Identify the R-value for the common types of attic insulation and weigh their pros and cons to find out which type is most suitable for your situation.
Fiberglass Batt Insulation
Fiberglass is the most popular choice because it's cheap and easy. The batt version comes in pre-cut sheets that fit best between standard-spaced joists. The downside is it's less effective at retaining heat than other materials and particles can irritate your skin and lungs.
Loose-Fill Insulation
Also called blown-in insulation, loose-fill options are ideal for older homes that have unusually shaped areas. You need special machinery for installation, which is often a task best left to professionals.
Cellulose Insulation
Cellulose is the eco-friendly choice of the pack since it's made mostly from recycled materials. It's resistant to fire and insects and is denser than fiberglass. Unfortunately, the installation process creates a ton of dust.
Spray Foam Insulation
Spray foam insulation is available in two forms: open cell and closed cell. Open cell foam is soft and flexible and can expand into hard-to-reach spaces. If you need a vapor barrier, closed cell foam makes more sense.
When You Should Get Expert Advice
Insufficient attic insulation Ballwin MO can overextend your heating and cooling systems and increase your energy bills. Advantage Air can inspect your system, evaluate your insulation needs, and connect you with a professional insulation installer. Contact us with questions or to set up an appointment.