Furnace Repair Ballwin MO
Furnace Repair
Advantage Air LLC repairs and services all heating system equipment in St. Louis, MO area. We service all major brands like Bryant, Payne, Carrier, Trane, Rheem, Ruud, Lennox, Goodman, Heil, York, and more! Choosing Advantage Air LLC assures you that your St. Louis furnace repair will be done in a timely, professional, and honest manner. Our technicians go through a thorough training process to ensure that they will provide only the best service.
Emergency Furnace Repair for St. Louis Residents
Furnace repair is a very serious matter and not something that we take lightly. That means no matter when a repair is needed, or even the weather conditions we will get it fixed for you. If you don't have a working furnace in the very cold or even freezing temperatures, more than your comfort could be in trouble. If your furnace goes down, that leaves a chance that your pipes may freeze leaving you with no clean, running water. Or even worse, your pipes may burst which will require you to then replace them. More importantly, very low temperatures and extremely dangerous to you and your family. Pneumonia, hypothermia and certain cardiovascular diseases can start as just a common cold. All of which require immediate medical attention.
If your Furnace or HVAC is not working, follow these steps:
Make sure the thermostat is connected properly and batteries are good
Check to make sure that your furnace is lit and on
If still not working, call us immediately at 636-230-5572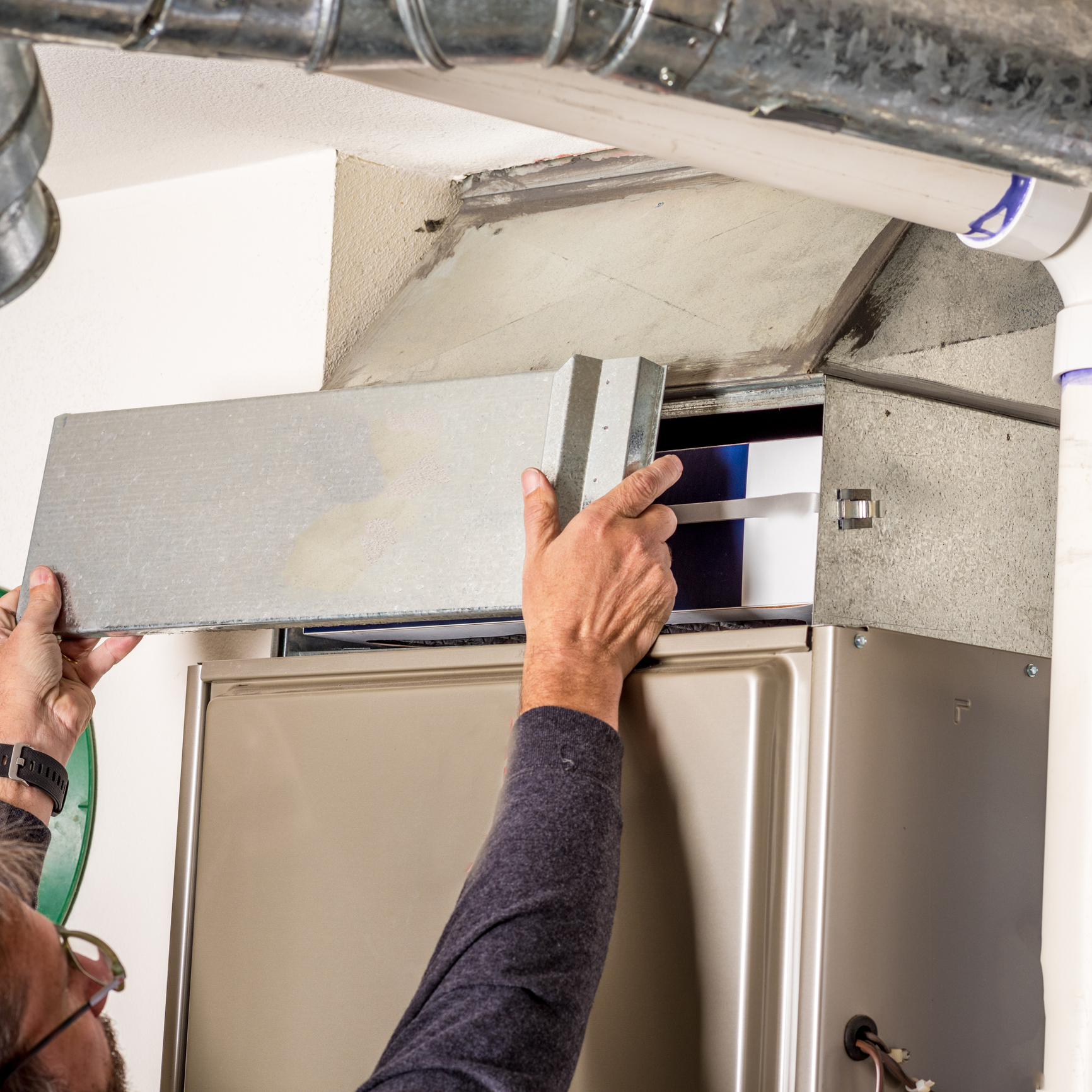 Why You Should Schedule a Furnace Repair Service in Ballwin, MO
Stay warm throughout the year with a fully restored and maintained furnace. Whether you think you have a damaged furnace or are looking for ways to maintain your HVAC system, find out how you can benefit from furnace repair Ballwin MO. Turn to a trusted team in your area for prompt inspections and reliable repairs.
Signs You Need Your HVAC System Inspected
Consider having your furnace inspected at least once a year to ensure it's still running properly and doesn't have any maintenance tasks that need to be performed. Beyond a yearly inspection, here are some key signs that you may need to schedule an inspection or repair service:
You hear unusual noises
Your home isn't warming up
The furnace blower won't start or stop
Unusual noises could be grinding, squealing, clanking or other issues. Some are caused by a lack of lubricant, while others are caused by corrosion. You may even have debris in your furnace that's preventing the blower from operating safely.
No heat is a serious issue. If the blower is turning on but you don't feel warm air coming from the vents, then it's time to call a professional. Wait a few minutes before you make the call, because it can take a few minutes as the blower sends air from the vents throughout your home.
Turn your thermostat on and wait for the blower to kick on. If it doesn't start, there may be a serious issue. It's also an issue if the blower won't stop. A particularly cold day may make it take longer than normal for your HVAC system to fully warm up your home, but a blower shouldn't be running around the clock.
These are just the most common signs that you need to make a repair call. There are other situations where a professional should come and check out your furnace, so use your best judgment if you notice an unusual sight, sound, smell or performance features of your HVAC system.
Of course, you don't have to wait until you notice an issue. Consider scheduling an inspection every year or every six months to check out your furnace and other components. Routine inspections include cleaning services and preventative maintenance that can extend the lifetime and/or warranty length of your system.
The Furnace Repair Process
Once you determine there's an issue with your furnace, it's time to call a local professional. A certified HVAC technician is going to thoroughly inspect your furnace, thermostat, ductwork and other HVAC components to diagnose any issue. Here are some common areas they will inspect:
Thermostat: A thermostat issue can prevent your furnace from firing up and warming your home. One of the most basic issues is a thermostat set at the wrong temperature, but the wiring could also be at fault.
Gas valves and lines: A stuck gas valve or leaking line are both serious issues. Keep your home safe by having a professional periodically inspect these lines.
Heat exchanger: This key component prevents fumes from the combustion chamber to circulate around your home, but instead allows heat to transfer to clean, filtered air. A damaged heat exchanger may cause carbon monoxide to build up in your home.
Blower motor: This powerful motor needs to be regularly lubricated and inspected to continue to blow warm air.
Cold air return: A clogged cold air return can prevent your furnace from working properly.
Ductwork and air vents: Just like a cold air return, the rest of the ductwork needs to be maintained and clear of blockage. Cleaning out these vents can be a difficult job on your own, so reach out to a technician for assistance.
Flue pipe: Another cause of carbon monoxide buildup, a clogged flue pipe is a serious issue that needs to be promptly addressed.
Electrical wiring and breaker: Your furnace blower and thermostat are powered by electricity. A tripped breaker, damaged wire or other electrical issues can prevent your furnace from operating.
Air filter: One of the most basic maintenance tasks on an HVAC system is replacing the air filter. A new filter every 30 to 90 days improves your indoor air quality and extends the lifetime of your furnace system.
These are the most common components to be inspected, but there are more issues that a qualified technician may uncover. Replacing your air filter is a maintenance task you can take on as a homeowner, but other tasks should be performed by a licensed professional.
Types of Heating Systems
These components and maintenance steps are for central furnaces fueled by gas. They're the most common type of heating system, but there are many other styles you may have in your home. Consider which of these heating systems you have in your home:
Hot water boiler
Steam boiler
Heat pump
Space heater
Woodstove
Boilers use radiators and/or baseboard heaters to heat your home. As boiling water or steam is directed through pipes, it heats up radiators and baseboard coils to transfer heat to different rooms in your home.
A heat pump draws heat from the air or from geothermal lines and forces it into your home using a blower. The process works exactly like an air conditioner, only in reverse, so heat pumps are commonly paired with air conditioners.
Space heaters are some of the least efficient heat sources, particularly if you use electricity. They can also be dangerous if improperly installed. They're best used to temporarily heat a small area of a room or home.
Wood stoves and fireplaces use firewood or wood pellets to burn and heat your home. Burning wood to heat your home creates more air pollution around your home than other types of heating, and they can affect your indoor air quality as well.
There are many different styles of these basic types, so discuss your current and future heating decisions with a licensed professional. You may be better off upgrading to a different style of heating rather than continuing to use inefficient technology.
How To Size Your System
Furnaces, water boilers and heat pumps are specially sized for your home. Sizing a system doesn't just take your home's square footage into account, but also considers the amount of insulation and layout. A licensed HVAC technician can assist you in determining the optimal furnace and see if you need one larger or smaller than the existing unit.
A small furnace won't promptly heat your entire home. It may take too much time to get up to temperature and overwork the blower. A furnace that's too large has its own problems. Oversized units heat up too quickly, causing them to short cycle. Short cycling occurs when a heater turns on and off frequently, which can also cause it to wear out quicker than its estimated lifetime.
How a Heating System Can Become Damaged
A properly installed furnace should last 15 to 20 years or more. While there may be minor repair needs before this amount of time, you can typically rely on a maintained heating system to last at least this long.
What happens after 20 years? Heat exchangers, blowers, gas valves, ignitors and other critical parts can become corroded or worn out with use. Some internal electrical wires, baffles, motor belts and seals are difficult and costly to repair, particularly after heavy use.
At this point, it may be better to invest in a new system rather than continue to repair an outdated one. Discuss the pros and cons of replacing vs. repairing your furnace before making your decision.
Dangers of a Damaged Furnace
Most heating systems are designed with enough failsafe devices to prevent any serious damage. There can, however, be a number of hazards if you attempt to use a damaged furnace. Here are some hazards you may face with a damaged heating system:
Carbon monoxide poisoning
House fire
Freezing temperatures
Electrocution
Poor air quality
Carbon monoxide poisoning can occur if there is a clog in the ventilation system, leak in a gas line or crack in the heat exchanger. A house fire is a devastating incident that can be caused by a damaged wire, leaking gas line, debris in the furnace or other issues.
Freezing temperatures may not directly affect your heater, but if your home drops below freezing you could experience frozen water lines. These lines can burst and cause excessive water damage to your property.
Frayed wires can spark and start a house fire. They can also cause serious injury or death if an individual comes in contact with exposed wiring. Modern wiring and breaker panels are designed to minimize this risk, but it remains a risk with improperly maintained systems. This is particularly true of outdated furnaces.
Benefits of a Modern Furnace
While you could continue to maintain your furnace, there are some key benefits of updating your heating system. Consider investing in a new system to enjoy these benefits in your home:
Improved air quality: HEPA filtration and other technologies have made heating systems more effective at reducing airborne contaminants.
Increased airflow consistency: Set up zones in your home, install additional vents or use a variable-speed motor to alter the airflow of your heating system. All of these features aim at reducing cold spots throughout your home.
Reduced energy bills: Variable-speed motors and new ductwork designs also reduce the amount of fuel and electricity required to heat your home.
Improved safety: A new furnace won't have the same corrosion and contamination as your old system may have. Years of use can create issues throughout a furnace you may not even be aware of, so a newer unit is less likely to cause a fire, gas leak or other hazards.
Tailor your furnace and thermostat to match your situation. Not only can you enjoy a properly sized furnace, but you can upgrade your thermostat to include programmable features. A smart thermostat helps you take charge of your HVAC system and look for warning signs right from your smartphone.
How To Compare Local HVAC Companies
When it's time to schedule an inspection, how do you know which company will provide the best services at the best cost? Don't schedule the first company you happen to see, but take your time and compare HVAC teams in your area. Here are some key aspects of a leading HVAC company:
Great customer reviews
Years of service
Around-the-clock support
Affordable price
Warranty or other guarantees of service
Financing options
Just like any other business or service, a number of great customer reviews is key to finding the right HVAC team in Missouri. You can't believe every review you see online, but you should expect a company to have a consistent number of high ratings and positive reviews.
Ask to hear from local homeowners or see who your neighbors have hired to inspect and repair their furnaces. A new technician may know a lot about furnaces, but you'll probably enjoy more peace of mind when you choose a technician with a track record of reliable service.
A furnace can fail at any point, so don't wait until the office is open to call a technician. Reliable companies offer 24/7 support for emergency service calls. These may cost more than scheduled maintenance visits, but both should be competitively priced.
Look for a company that offers a 100% satisfaction guarantee or other commitment. Whether it's a specific warranty or a promise of quality work, be sure you're choosing a company that will stand by its work.
You can't always prepare for a sudden furnace issue, so you may not have the available funds to pay for a full furnace replacement. Don't let this stop you from investing in the system you deserve. A reliable HVAC company should offer financing for major or minor repairs.
Schedule a Comprehensive Inspection in Ballwin, MO
From a full furnace replacement to a routine maintenance call, Advantage Air is a leading HVAC company in st. Louis, MO. Contact us today to schedule a maintenance visit or emergency service call. Keep your home warm and comfortable throughout the year with a quality system serviced by a team of local experts.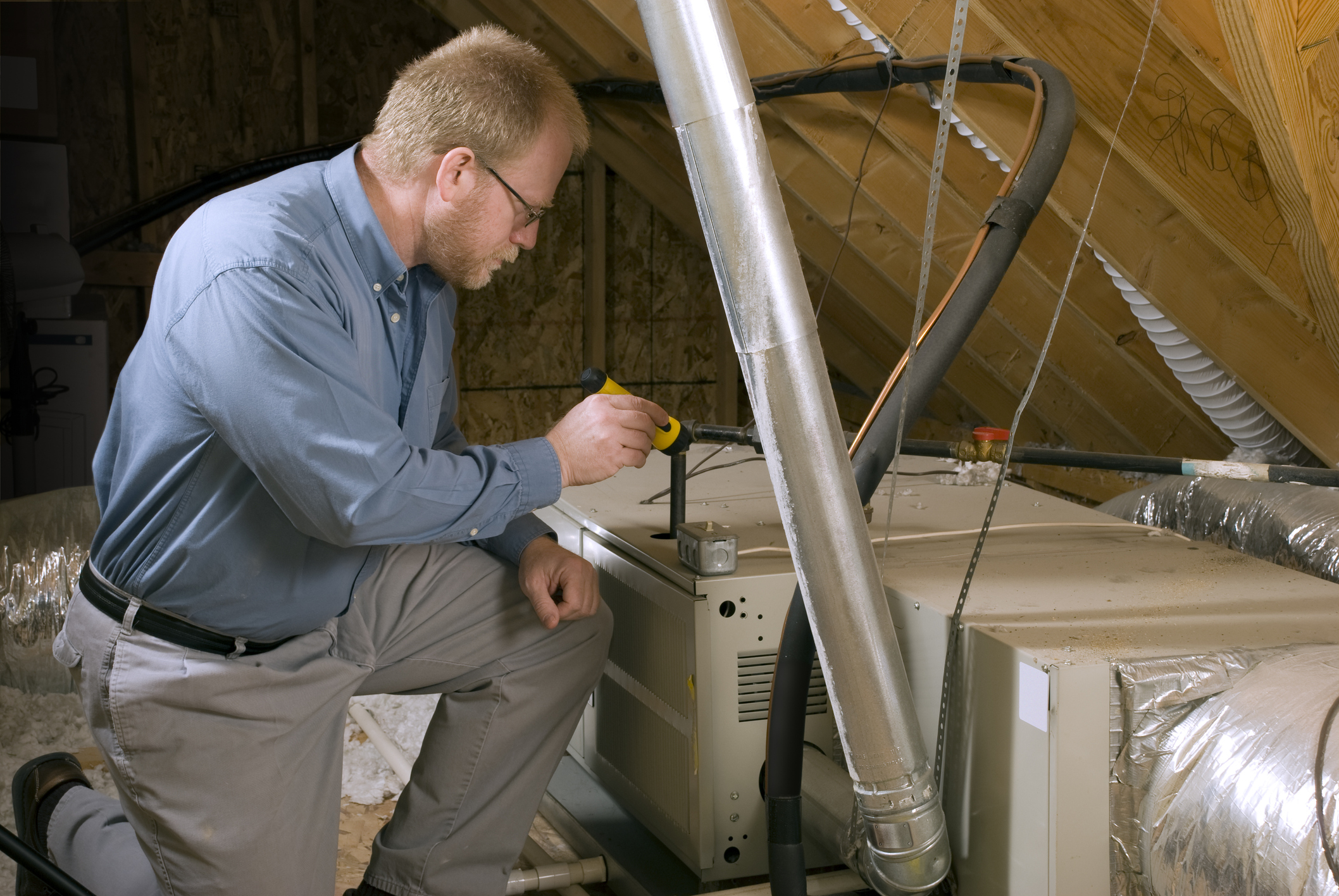 Make Us Your Furnace Repair Ballwin MO Contractor of Choice
Has your furnace been sounding, smelling or acting weird? If so, you may be in need of furnace repair Ballwin MO services. Here at Advantage Air, we frequently troubleshoot common heating and air conditioning problems so you can have confidence in the ability of your system to keep you comfortable year-round.
Our Furnace Repair Ballwin MO Services
Unfortunately, not all furnaces heat homes and buildings with the same degree of efficiency. In particular, old furnaces tend to perform less proficiently than their newer, more energy-efficient counterparts. If you are trying to lower your utility bills or if your current system has stopped working properly, here are some of the services we can offer you:
Furnace inspection
Furnace maintenance
Furnace repairs
Furnace replacement
We will do whatever we can to help you avoid the cost of replacing your furnace. But in some cases, a replacement can actually save you money in the long run (especially if you're frequently repairing your old furnace or if your energy bills are through the roof).
Additional Services We Offer
In addition to repairing your heating system as needed, we also offer these additional services:
Cooling system repair
AC replacement
Air filtration services
Air sealing services
Attic insulation installation
If you live in Ballwin, the greater St. Louis area, or any of the surrounding areas, we'd love to provide you with any of these services as needed. Our goal is to help you remain safe and comfortable in your home throughout all seasons.
Schedule Your Estimate Today
Are you ready to improve the efficiency of your furnace and keep your home warm this coming winter? To schedule your free estimate for furnace repair Ballwin MO services, contact Advantage Air today. If you're experiencing an emergency furnace situation, take advantage of our same-day service option. Otherwise, fill out our online form, call us, or visit us in person and we'll help you schedule your furnace repair service as soon as possible.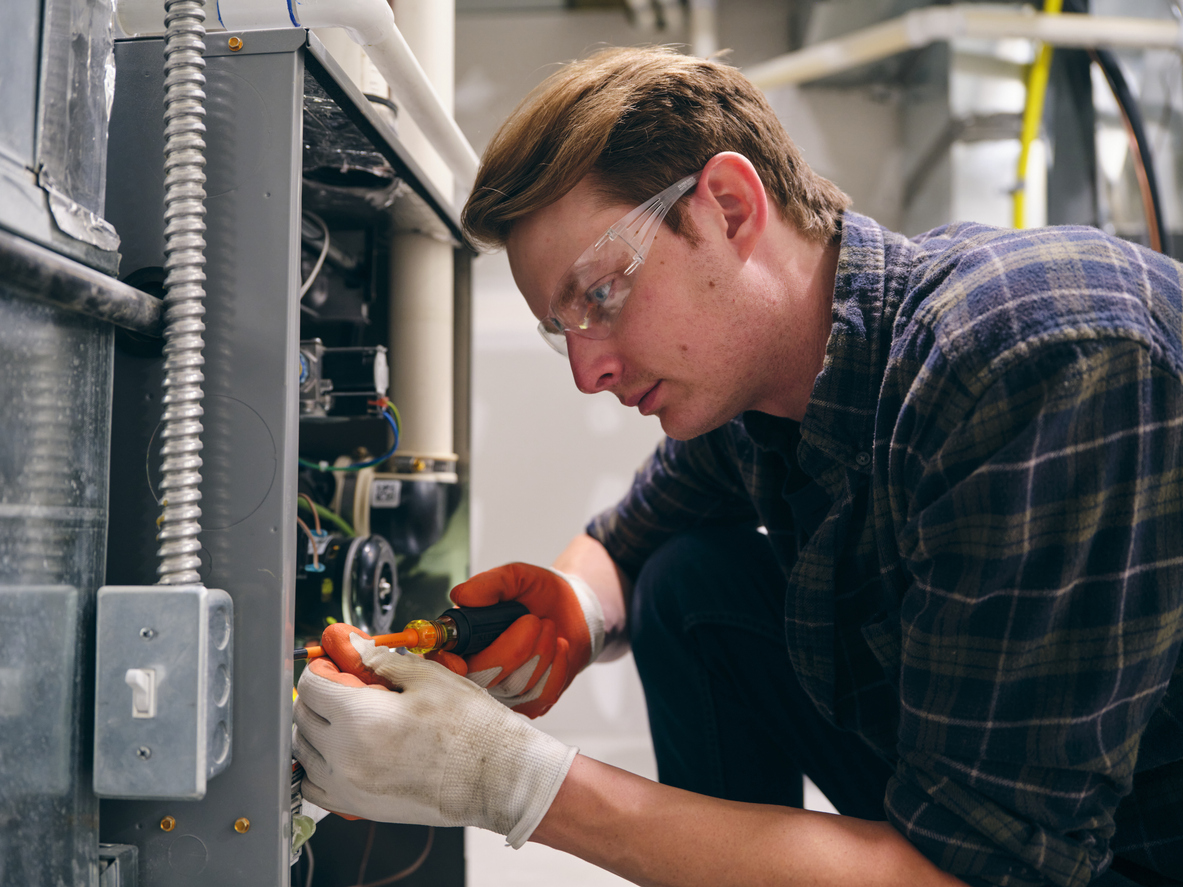 Your Complete Guide To Furnace Repair
When winter weather is in full swing, the last thing you want is a broken furnace. Whether the temperature already dropped outside or it will be soon, the best time to prepare your HVAC unit for the cold is now. Use these tips to help you perform do-it-yourself maintenance or repairs, to learn when it's best to call a professional for furnace repair Ballwin MO, and to decide when it's time to replace the unit with something newer and more energy-efficient. This way, your family will be warm and toasty when you need them to be.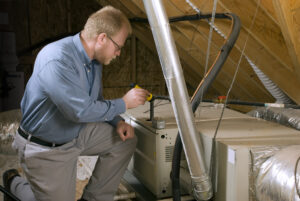 5 DIY Repairs You Can Do for Your Furnace
There are a number of reasons that your furnace's air heating may not be working correctly. Many of those reasons are actually simple fixes that you can do if you have a little bit of do-it-yourself experience.
1. Check Your Thermostat
It might seem silly, but things get bumped sometimes. The first thing you should do is check your thermostat to ensure it's set to the "heat" function and that it is at least five degrees higher than the current temperature in your home. There are a couple of other things to check on the thermostat as well. If your thermostat needs batteries, be sure to change them at least once a year. Additionally, open the thermostat panel to blow out any dust that may be clogging the sensors. If your thermostat runs on a timer, be sure the date and time are correct. Finally, check the breaker, turning it on and off if necessary.
2. Clean Your Air Filter
If you notice your furnace is struggling to create heat, it may be because it doesn't have a clean air filter. Ideally, you should change your HVAC system's air filter every 30-60 days. At a minimum, you should change it twice per year. To ensure your filter is in working order, you'll first need to locate it. It may be in the intake, which will look like a grate in the ceiling, wall, or floor. Some types of furnaces house the filter within themselves. Once you locate it, you'll want to check it by holding it up to the light. If you can't see through the filter, it's time to clean or replace it.
3. Declutter the Area Around Your Furnace
It might seem like a given, but you'd be surprised how many people have clutter all around their furnaces. It's easy to let things pile up in an area you don't use often, but clutter prevents your furnace from operating efficiently, not to mention safely. Remove any clutter that could be blocking the vents of your furnace and ensure any flammable substances are stored far away from the unit. Once you declutter, vacuum away excess dust and debris to ensure it's working as well as possible.
4. Oil the Furnace Blower
Your furnace's inner workings need to operate smoothly to provide heat to your home as well as you need it to. This means you need to oil its blower at least once per year. This makes it easier for your furnace to send heat through the blower and into your home. First, turn off the circuit breaker on the main electrical panel. Then remove the access panel on the furnace (you'll probably need a screwdriver for this). Find the blower motor at the base of the furnace and remove the bolts. Unscrew the motor and pull it from the housing, then find the oil ports on the motor and shaft. Squeeze 2-3 drops of oil into each section, replace everything, and turn the breaker back on. The furnace should run better now.
5. Inspect the Burner Flames
Start by removing the door of the combustion chamber. Once you're inside, check out the flames. Your furnace should have strong blue flames that burn evenly (keeping in mind not to breathe on them, which can turn them yellow). If you aren't breathing on the flames but they still look yellow, it's an indicator that the burners are dirty. If you are comfortable shutting off the gas and vacuuming them yourself, you can use a traditional hose vacuum anywhere you see dust. If you aren't comfortable doing this yourself, your HVAC technician can help you with it.
6 Signs That You Need Professional Furnace Repair
Unfortunately, you won't be able to fix every furnace issue by yourself. Fortunately, you can hire a professional heating and AC repair in St. Louis, MO, to help you stay warm this winter and cool during the summer. The key is to understand the signs that your furnace needs professional help.
1. Air Flow Is Weak
If you've done everything on the do-it-yourself repair list and your furnace's airflow is still weak, there is a larger issue at hand. Typically, this occurs because there is a blockage in the ducts or because the fan isn't working properly. An HVAC technician can get to the root of the issue and fix it.
2. You Smell Something Burning
If you smell something burning and you've already tried changing the filter to combat it, turn the unit off. The chances are that your heating system may have an issue with its inner workings, which can lead to a fire if you allow them to keep operating inefficiently. Have someone look at your HVAC system as soon as possible to find the problem and fix it.
3. The Furnace Cycles On and Off Frequently
If you've already checked the thermostat and still have issues with your furnace turning itself off and on very frequently, the problem may be in the ductwork or somewhere else that you can't reach yourself. Ask a professional HVAC technician for help.
4. Your Furnace Isn't Heating Your Home Well
Sometimes, your heater will look and sound like it's working, but your home won't actually get any warmer. There are many reasons this could occur, but a couple of the most common include a clogged burner or an issue within the ductwork that runs through your home. An HVAC technician can find the specific issue and get it fixed.
5. You Haven't Maintained It in Years
Like any other part of your home, your furnace and its outside HVAC unit components should receive professional maintenance at least once per year. If you haven't had yours maintained by a professional in the last few years, doing so now could save you big bucks on major repairs down the line. A professional can ensure everything is clean, well-oiled, and safe for operation.
6. Your Carbon Monoxide Alarm Goes Off
First, if you don't already have a carbon monoxide alarm installed near your furnace, do so now. It could mean the difference between a safe, happy home and a tragedy. If your home already has a carbon monoxide alarm, pay attention to it. If it starts chirping, turn off your furnace right away and call 911. The problem could be a cracked heat exchanger, which can leak carbon monoxide gas and cause your family to fall ill or worse. Once the danger is cleared, you'll need to call a reputable HVAC technician to determine if a cracked heat exchanger is indeed the problem and then to repair it before you can use your heat again.
5 Signs That It's Time To Replace Your Furnace
Sometimes, no amount of repairs will get the job done. Your furnace does have a shelf life, and once it's past, it will be time to replace it. Consider these signs when determining if it's time to replace your old furnace.
1. Your Furnace Makes a Lot of Noise
If your furnace makes a little bit of noise, it could be that it needs a new belt, which is usually an easy part to replace. However, if you find that your furnace makes a lot of noise even after replacing belts, it could be that there's a deeper issue. The motor may no longer be secure, other parts may need to be replaced, or if the unit isn't salvageable, your HVAC technician may suggest replacing the entire unit.
2. Your Utility Bills Are Too High
The older a furnace is, the less energy-efficient it will be. If you notice your electric or natural gas bill is higher every winter, it could be because your furnace is no longer working as well as it used to. In addition, consider whether all of the rooms in your home are staying the same temperature. If some rooms are colder than others even though the vents are open, it may be because your furnace no longer has the ability to distribute the warm air the way it should, therefore warranting a replacement.
3. You Are Spending Too Much on Repairs
How often are you calling in someone to help you with furnace repair? If you're doing it every year, or worse, more than once per year, you're spending much more money on HVAC repairs than you should be. Consider how expensive your last few repairs were. If they are more than the cost of replacing the unit, just replace it the next time it breaks down. Your wallet will thank you.
4. Your Furnace Is Old 
Old is a relative term. Most furnaces last 18-20 years if you've had them professionally maintained the way you should. However, furnaces that are older than about 10 years old aren't as energy-efficient as new models. If you aren't sure how efficient your unit is, or if you don't know if it is old enough to need replaced, allow an HVAC professional to help you determine what the best course of action will be.
5. There Are Visible Signs of Wear and Tear
Take a good, long look at your unit. Chances are it has some dust or dirt on it, but if you've noticed it seems to gather dust, soot, or dirt more quickly, even when you keep up with maintenance, it could be because it's old. Consider rust as well. If your furnace has any ruse buildup on any part of it, it's a good indication that it's time to install a new system. Other signs it's time for a new furnace include visible cracks in or around the system. Be sure to check the outdoor portion of the unit in addition to the furnace inside your home.
How To Choose the Right HVAC Technician
When it's time to hire an HVAC technician, it's important to find the right one to meet your needs. Start by asking family and friends for recommendations or searching the internet for companies near you. Before you contact anyone, especially one you find on the internet, read reviews and testimonials on their website and on review websites first. If a company has too many poor reviews, it's best to move on to the next. However, do remember that no company can please every customer, so if it only has one or two poor reviews, the business may still be worth looking into.
Once you narrow it down to two or three options, contact the ones who have piqued your interest. Describe your situation and ask what they may the technician thinks the problem might be and whether he has an offhand estimate. Additionally, find out if the company provides on-site free estimates to ensure you're getting the best deal for your money.
When you decide on a company, ask for license and insurance information. If the business doesn't seem to want to provide it, keep looking. Never cut corners by having someone who isn't licensed work on your home. If something were to go wrong, you could be on the hook financially or even legally.
Above all else, go with your gut when hiring an HVAC technician. You want someone who is friendly but professional, willing to answer your questions, and who provides you with plenty of information as well as a detailed estimate before starting work.
Hire a Professional HVAC System Technician Today
Don't let the cold catch you unprepared. When you need heating and cooling repair in St. Louis, MO, you need the professionals at Advantage Air. Contact us today to learn how we can help you ensure your family's home is always at just the right temperature.
Proactively Address Heating and Cooling Emergencies With Unit Maintenance
It's easy to take the heat or air conditioning for granted, only taking notice when the house isn't as comfortable as you would like. The winters in St Louis MO can be brutal, and you don't want to wake up in the middle of the night wondering if there is a furnace repair Ballwin MO company that makes emergency calls. Summer air conditioning emergencies can be just as stressful. Fortunately, Advantage Air is there to handle all your heating and cooling needs, but you can also proactively prevent energy emergencies.
Be Proactive With HVAC and Furnace Maintenance
Both the cold of winter and the suffocating heat of summer can make living in your home unbearable if you don't have an efficient heating and cooling system. The more costly approach to a comfortable living environment is to fix problems when they occur, whereas you could be proactive in ensuring your air or heating system is running well through seasonal maintenance. In addition to preserving the life of your equipment, routine maintenance will have a positive impact on your energy costs, potentially reducing the bill by up to 20%. Failing to maintain these units can increase a bill because inefficiency drives up usage between 30% to 60%.
When every dollar in the budget matters, you can't afford to ignore the savings that come from being proactive with your heating and cooling units. Older units will be more costly to operate, as new technologies have created more energy efficiency in operations. Advantage Air is proud to offer expert installation services to residents in the St Louis area, giving you access to the latest air conditioning systems or furnaces. Even if you prefer to stick with your unit for a while longer, taking care of its maintenance needs can help keep things running smoothly.
Know the Basics of Maintenance and Repair
If you are going to keep up with the maintenance needs for your heating system or air conditioner, you will need to understand the basics of these units and common threats to efficiency and longevity. Your best option is to work with Advantage Air, the leading company in St Louis for HVAC system and furnace services, to provide routine inspections from our qualified technicians. However, a general understanding of the different pieces of equipment can help you troubleshoot your units when talking to our technicians or when making the maintenance rounds periodically. Many of the tasks needing to be done occur seasonally, giving you a schedule for proactive maintenance.
Understand the Safety Implications
Failing to be proactive in the care of your unit can present a serious safety risk to your family and home. Maintenance does more than improve efficiency; it creates a safety net for those in the home. A tiny crack in a furnace could allow the odorless carbon monoxide to flood throughout the home undetected. Without the installation of carbon monoxide detectors, the consequences of this leak could be deadly. Electrical components that are loose or improperly maintained could short-circuit and pose a fire hazard. These factors and more can be prevented when proper maintenance is done on a heating and cooling unit.
While there are things that homeowners can do to protect and service their heat pumps, air conditioners and other equipment, there is a danger in taking these responsibilities too far. Some repair and maintenance needs are not appropriate for a do-it-yourself approach and can cause injury if attempted. For these more serious concerns, let the technicians from Advantage Air provide expert services for your heating or AC repair and maintenance.
Start With the Basics of Maintenance
Even though they provide different levels of comfort, there are some of basic maintenance needs that are applicable to both a heating and cooling system. Some of these can be handled personally, while others should be left to the Advantage Air professionals.
Air Filters
It is recommended that air filters be changed out as needed, though many homes experience this need every one to three months. Even though it is one of the easiest maintenance tasks to complete, it is generally the most overlooked and forgotten. Not only do air filters have an impact on the air quality of the home, but they also directly impact how efficiently your unit is able to run. A forced-air system pulls air through the air filter in order to create cleaner, breathable air for those in the home. Clogged or worn filters can leave too much dust and debris in the air and tax a unit.
When the air isn't able to move quickly or smoothly through the filter, the unit must pull harder and longer to sustain operations. These inefficiencies drive up energy costs for the homeowner and hasten the death of a central air conditioning unit or furnace. Not only do homeowners have to deal with potential health concerns from poor air quality, but the risk for financial consequences from broken or inefficiently operating units also becomes a concern. Replacing an air filter takes just minutes and is completely affordable when compared to the probable expenses that come from failure to maintain a unit.
Air Registers and Return Vents
In addition to continually checking your air filters, you should also periodically check the supply return vents and air registers around the home. Supply vents could be in the floor or the ceiling in the different rooms around your home, and supply return vents are the larger vents connected to the return vents. Supply vents blow the heated or cooled air into the indoor spaces, while returns pull the air from the indoor space to be processed by the heating or cooling system. Supply vents are smaller and tend to have slats or louvers which provide the ability to direct where the air flows. Returns vents don't have louvers and are quite large.
Your unit needs to maintain a balanced supply or air during operations, which means any restrictions or blockages with the air pressure could create problems with the heating and cooling system. If there are pieces of furniture, heavy drapes or clutter blocking the return vents, there won't be enough air pulled into the equipment. If there are supply vents that are closed or blocked in particular rooms, it can create an air pressure buildup that is unsupported by the ductwork. This can lead to leaks in the ductwork, sabotaging both comfort and efficiency. Nothing should be blocking either the supply or return vents.
Thermostat
The thermostat is the most important control you have with your furnace or HVAC system, as it has a direct impact on how often and how long your unit runs. A properly calibrated thermostat will most accurately operate your system, but calibration should be done by a professional for it to be effective. Manual thermostats are typically inexpensive and can be replaced easily but upgrading to a programmable thermostat could save more money in the long run. These thermostats make it easy for homeowners to establish a schedule to help control energy costs.
Whether you have a programmable or manual thermostat, a technician needs to look at the different connections and electrical components that affect how the thermostat is able to communicate with the heating and air unit. The wiring or other elements are not things the average homeowner can understand or safely manipulate, which is why this maintenance task should be left to the technicians at Advantage Air.
Condensate Drain
As your furnace or air conditioner runs, it creates condensation. Without proper drainage, this condensation can pool up and create water damage around the home. Your unit is outfitted with a condensate drain to carry the water away, but this drain can get stopped up with a buildup of grime or sludge. This can cause overflow and the potential for damage and mold growth. Though you may be able to look at the drain and see a problem, it is best to let a technician professionally clean it out and look for reasons why it may not be working properly.
Moving Parts
There are many different parts that must work together in harmony if your AC or heating unit is going to work efficiently. Both small and large parts may need to be lubricated in order to prevent grinding or sticking, and a professional knows both where and how to apply proper lubricant to the unit. If humming noises start coming from your unit, it could mean that there isn't enough oil in the AC compressor. Hot weather can cause problems with grease, making inspection prior to the cooling season a priority for avoiding complications. However, any part that requires more effort to move or control creates a draw on efficiency.
Blowers
Though you may be able to change out the air filters, you will need to call on one of our Advantage Air technicians to come clean out the blower and make adjustments for efficiency. Dust and debris stuck on the blades will cause extra wear and tear on the blower motor. It will require more energy to turn a fan that is heavier or restricted, therefore increasing an electric bill and reducing the longevity of the unit.
Conduct Seasonal Maintenance Duties
There are several tasks that should be completed according to the seasonal use of a heating or cooling unit. The changing temperatures and demands on a system when going between heating or cooling require homeowners to check the exterior elements for maximum efficiency.
Personal Unit Cleanup
Even though the main component of the HVAC system sits outside, there are some things that can impact functionality. It is built to withstand impact from rain and weather, but it can be affected by twigs, leaves or other debris that build up in piles around the unit. These materials can obstruct the airflow around the unit, causing it to work harder than necessary to keep up with the demand. Debris can also create an excessive buildup of moisture, potentially leading to rust or mildew near the unit that can damage both the equipment and the homeowner's health. As the seasons change, clean out the space around the unit and keep it free from obstructions.
As you are cleaning out from around the unit, take a few minutes to look at the surrounding bushes or tree branches. Nothing should be within 18 inches of the unit or handing directly above the area. Winds or weather can cause debris to come down in and around the unit, impacting the efficiency of the unit's operation. Heavy limbs or other items could fall and damage the unit. After everything has been cleared away, take a garden hose and spray down the unit to remove any build-up of grime or dirt.
Professional Unit Cleanup
As the weather warms and it is time to engage your air conditioner, the condenser coils and evaporator needs to be free from the grime that has accumulated throughout the winter. Any buildup keeps the unit from being able to run efficiently, requiring the unit to run longer in order to keep the home at the desired temperature. By cleaning the coils, you can reduce the demand on the unit and lower your cooling costs. Have a technician from Advantage Air clean these elements, as they can be easily damaged.
A technician should also check the refrigerant level in the unit before you prepare for summer use. Refrigerant is a strong chemical that can cause safety hazards to an individual and the environment when not handled properly. There are laws governing the handling and disposal of this chemical, and our Advantage Air technicians are trained and certified in handling refrigerants with care and in accordance with state and federal laws.
Partner With the Best Heating and Air Company in St Louis
To give your heating and air system the best maintenance possible, work with the expert technicians of Advantage Air. Our team does a great job on your equipment, whether you need an inspection, have a service issue or want a replacement unit installed. Trust our team for a range of HVAC and furnace services and experience the advantages of working with the best.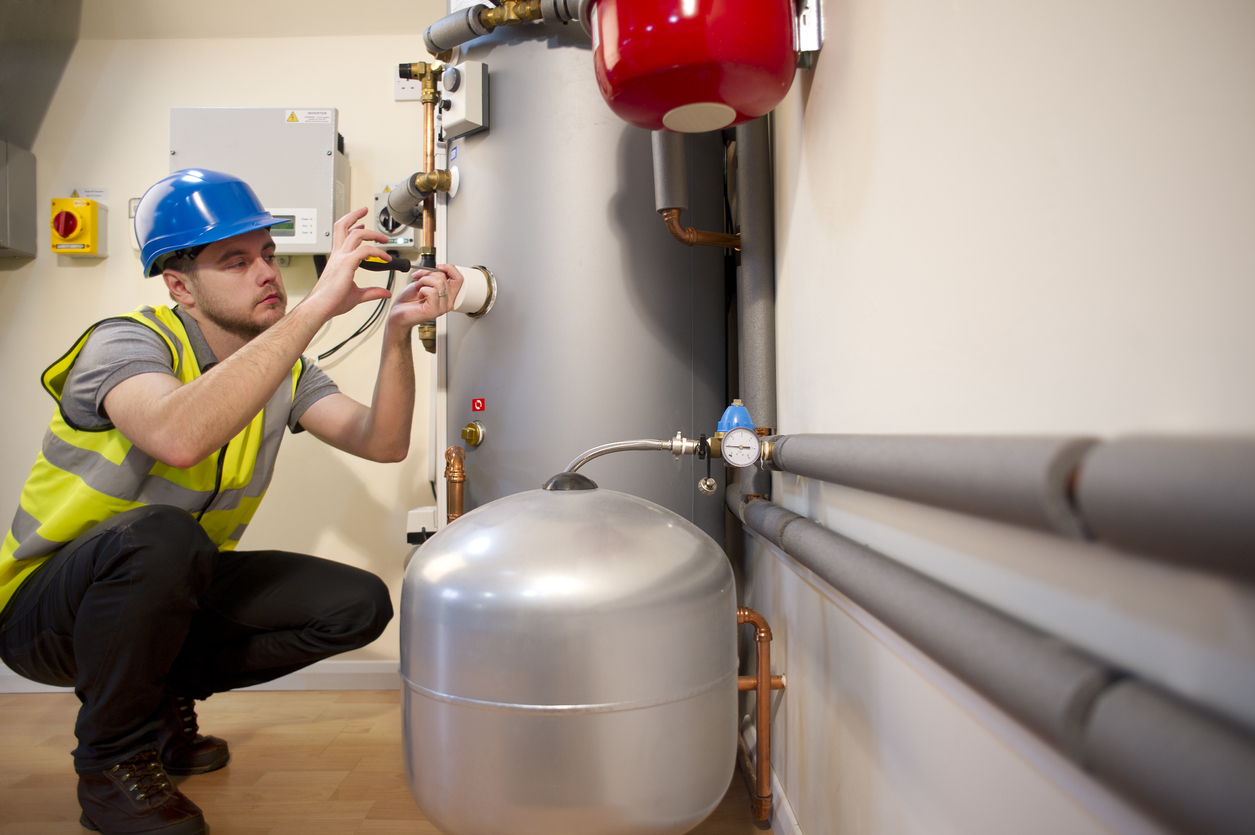 Best Practices for Using a Programmable Thermostat
In your quest to heat your home more efficiently, you decided to invest in a programmable thermostat. Perhaps a recent furnace repair in Ballwin MO prompted the upgrade, or maybe you want to save as much money as possible during the colder months of the year. Either way, get the most out of your investment in a programmable thermostat with these tips.
Choose Carefully
Just like with choosing the right heating system, think about your home and needs to narrow your thermostat options. With 5-2 models, you have access to separate programs for weekdays and weekends. Seven-day models let you customize settings for every day of the week.
Use Caution When Setting Your Thermostat Back
While it makes sense to set your thermostat back at night and when your house sits empty, try not to overdo it. Aim for adjusting the temperate by five degrees to allow your thermostat to do a great job of not working more than necessary to keep you and your family comfortable.
Change the Temperature When No One's Home
You need not worry about keeping your house comfortable when no one's home. Program your thermostat to lower the temperature 30 minutes before everyone leaves the house for the day and to raise the temperature 30 minutes before everyone comes back. That way, you and your family always enjoy the ideal temperature without wasting energy and money.
Use the "Hold" Setting
Get the most out of your HVAC system and programmable thermostat by using your thermostat's "hold" setting. This is an ideal feature for when you take a vacation or are otherwise out of the house for an extended period. To get the most savings from the feature, set the temperature at about 55 degrees.
A programmable thermostat could become one of the best investments you make for your home. For more information on them and other heating and cooling services, contact an Advantage Air representative.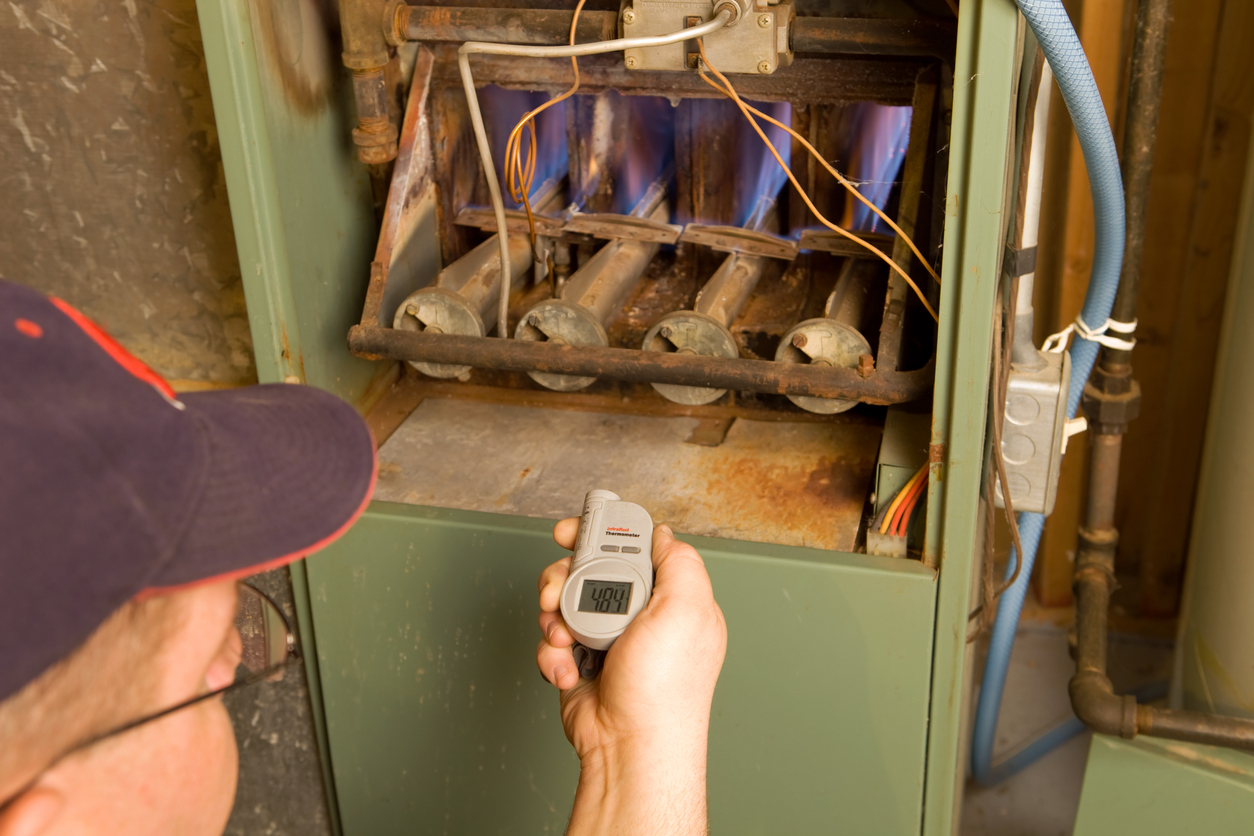 HVAC Repair in Ballwin, MO
It's well known that the winters in the St. Louis, MO, area can be brutally cold and the summers can be swelteringly hot. Be ready for whatever mother nature delivers by keeping your furnace and air conditioning in tip-top shape.
For the best furnace repair Ballwin MO, you can count on Advantage Air. Our technicians are experienced with all varieties of heating and cooling systems, including heat pumps, boilers, and furnaces. Their skill and expertise can help your home stay comfortable, no matter the weather.
We can service your air conditioner, too. As one of the top cooling companies in the region, we understand the impact a humid Missouri summer can have on your central air. Let Advantage Air take care of your heating and cooling systems so you can focus on other important things.
How Your Forced-Air Furnace Works
It can be helpful to understand a few furnace basics. Then when something goes amiss with your system, you have a few ideas about what may be wrong. Of course, you should always consult with a technician and not attempt repairs yourself.
The basic heat cycle of a furnace is as follows:
The thermostat sends a signal to the furnace that heat is needed. Propane or natural gas ignite in the burner.
Cold air enters the furnace and is warmed in the heat exchanger by the burning gas.
Exhaust from this process exits your home through an exhaust pipe.
The blower fan sends the warm air into the rooms of your house.
As the air in the rooms warms, the cold air sinks and is directed to the furnace through return ducts.
The thermostat recognizes the desired temperature has been reached and turns off the gas valve.
There are several important components to your furnace that make it run smoothly. They include:
Control Board: This is a small circuit board that receives, sends, and interprets electrical signals. For example, it tells the gas valve to open and the burners to turn on when the thermostat sends a signal.
Burners: Located inside the furnace, these small openings are where the gas is ignited into controlled flames.
Igniter: This device lights the gas emitting from the burners. It can either be a spark-ignition or a hot surface that ignites the gas as it passes over the surface. 
Blower Fan: Per the demands of the house, this small fan directs warm air to the various locations.
Heat Exchanger: These thin-walled metal tubes are heated by the combustion process. Cold air from the home flows over it and is warmed for distribution to the home.
Plenum: Air-supply plenums send warm air to the ducts. Return-air plenums bring cold air to the furnace.
Gas Valve: This device regulates the gas pressure coming to the furnace from either a natural gas supply line or a tank.
As you can see, there are a lot of moving parts to a heating system. And while it generally does a great job heating your home, regular maintenance and checkups are recommended for peak operating efficiency.
How Your Central Air Conditioning Works
An air conditioner works similarly to your refrigerator. Its primary job is to transfer heat from your home to the outside. Whenever it's running, your air conditioner goes through this basic cooling cycle:
When the temperature rises in your home, the thermostat sends a signal to the furnace's circuit board.
The blower motor in the furnace turns on as does the condenser, which is outside your house.
Warm air is pulled into the ductwork and is cooled when it passes over the refrigerant-filled evaporator coil, located above your furnace.
The cooled air enters your rooms through the return air vents.
The refrigerant in the evaporator coil absorbs the heat from the air that passes over.
The now-warm refrigerant is pumped to the condenser that sits outside your home.
The condenser moves the outside air across the coils with the refrigerant, cooling it back down.
The cooler refrigerant travels back into your home to start the cycle over again.
The main components of your central air system include the following:
Compressor: Located in the unit outside your home, the compressor's primary job is to compress the warm refrigerant to make it denser before it travels through the condenser coil.
Condenser Coil: This is also in the outside unit. A condenser fan moves air through the coil. The airflow causes the refrigerant to expel heat and cool down, changing the refrigerant from a high-pressure vapor to a liquid.
Expansion Valve: When the liquid refrigerant passes through the narrow opening of the valve, the pressure drops significantly. This rapid change further cools the refrigerant and converts it to mist, sending it back to the inside unit.
Evaporator Coil: This component is inside your home. Its primary job is to remove the heat from the air that passes over these coils and send that air throughout the ductwork in your home.
A working air conditioner is so essential to a comfortable summer in the St. Louis area. It's important to hire a reputable HVAC company in St. Louis for any repairs or maintenance.
How To Tell if Your Furnace Needs Attention
You know how those Missouri winters can be. The middle of a February ice storm is not the time to be worried about your furnace. As soon as the leaves begin to change in the fall, call Advantage Air. We'll send out our expert team to check over all your heating equipment and ensure that it's ready for the season ahead. We can spot potential problems and nip them in the bud.
Unfortunately, furnace parts do wear out over time and the machinery can break down. If you notice any of the following symptoms, no matter the time of year, give us a call immediately:
The furnace is cycling on and off repeatedly. Something in the system is preventing your furnace from completing a full cycle. There can be many causes for this, from a dirty heat sensor to a failing fan motor.
The burner flame is yellow. It should be blue. A yellow flame means the gas isn't burning completely and is often an indicator of a dirty burner. 
The flue is rusty. The flue vents dangerous carbon monoxide outside your home. A rusted flue can cause a CO leak.
Condensation is collecting inside your home on ceilings, walls, or windows. This could be a sign that your home lacks sufficient airflow. There may be problems with your furnace or your vents.
Your utility bills are sharply higher without a corresponding drop in outside temperature. You expect bills to rise when there's a severe cold spell. But if temperatures are normal and your bill still went up dramatically, you could have a number of problems from a dirty filter to failing components.
There are puddles of water around your furnace. When a gas furnace is at work, water is a natural byproduct. However, it shouldn't be pooling under the furnace. It's time to call the pros.
You see signs of animal activity. If you suspect squirrels, mice, or rats have been in the area where your furnace is located, get your system inspected for damaged wires and clogged vents.
The thermostat needs constant adjustment. If you find yourself tweaking the thermostat throughout the day, it may be faulty. You should be able to set it and forget it.
Your home has cold spots that can't be explained by the architecture. Sliding glass doors to the outside, for example, are a natural cold spot in many homes. If you find cold spots in the middle of rooms that are properly insulated, your furnace is struggling to heat your home.
Your furnace makes unusual noises followed by silence. A certain amount of mechanical humming is normal. Knocking, banging, and rattling is not. If the sounds stop abruptly, that is a clear warning sign that it's time to call the pros.
Last, but not least, be aware of the age of your furnace. Most furnaces have a normal life span of about 20 years. You can sometimes eke out a few more years, especially if it has been well maintained. But every furnace will eventually be too old and worn to repair. 
If you know your furnace is approaching the end of its life, be proactive and replace it when the weather is warm. The experts at Advantage Air can schedule a furnace replacement when it least inconveniences you.
How To Tell if Your Central Air Needs Attention
Don't get us wrong, we love Missouri, but the summers are so hot and humid they can drive a person insane. As soon as the trees begin to bud in the spring, call for a service appointment for your air conditioning unit. You'll enjoy summer so much more if the air in your home is cool and less humid.
Throughout the year, be on the lookout for any of the following signs. Be sure to call your repair person if you notice them.
There is warm air coming out of the vents. This could be anything from a refrigerant leak to a broken compressor.
The cooling is delayed. It takes several minutes for the unit to turn on after adjusting the thermostat.
The airflow seems thin or scanty compared to previous times. The airflow should be ample and unchanging.
You notice large pools of water under or around the unit. A small amount of water could be condensation. Larger pools, especially if the water is discolored, demand professional attention.
There are unusual odors coming from the unit or the vents. You may have a deceased rodent somewhere in the system or have mold and mildew issues.
Your unit has needed frequent repairs in the past two years. This doesn't include regular maintenance calls, which are a good thing. This refers to breakdowns that necessitate replacing parts. Constantly repairing an air conditioning unit generally means it's time for a new one.
Your home has high humidity levels. Your air conditioner should be reducing humidity in addition to the temperature. If it's not, it's time to call. 
The unit shuts on and off frequently. 
Your energy bills suddenly shoot higher without a corresponding rise in outdoor temperatures. Be sure to check for this if you are relying on auto-draft to pay your bills. You can also compare your bills with the same time period a year prior. This will help you determine what is typical for that time of year.
As with furnaces, your central air unit has a natural lifespan. It's a little shorter than your furnace, aging out at 10 to 15 years. A well-made and well-maintained unit can last 17 years. But that's really stretching it. If your central air unit is older than 15 years, it's time to plan for its replacement. 
By scheduling the installation of a new central air unit in the spring or fall, you can ensure that you'll have the cool air you want when the hot season arrives. The experts at Advantage Air LLC can help you determine when would be the best time for your installation.
How To Maintain Your HVAC System
Preventive maintenance is the single most important thing you can do for your furnace and your air conditioning. Regardless of what type of heating and cooling you have, giving it a little love and attention twice a year will make all the difference. 
Preventive maintenance will alert you to issues that need to be addressed before they become bigger, more expensive problems. It also helps your system to run at peak efficiency, saving you money in the long run. It even improves indoor air quality because the air filters on your unit are kept clean and up-to-date.
Advantage Air LLC makes regular maintenance appointments. We offer different options to meet a variety of home needs. We recommend biannual checkups but can adjust to your schedule and preference. At each visit, we will inspect the equipment, remove dust and debris, and fix or replace any faulty parts. Reach out to us today to get on the schedule.