Furnace Repair Ballwin MO
Furnace Repair
Advantage Air LLC repairs and services all heating system equipment in St. Louis, MO area. We service all major brands like Bryant, Payne, Carrier, Trane, Rheem, Ruud, Lennox, Goodman, Heil, York, and more! Choosing Advantage Air LLC assures you that your St. Louis furnace repair will be done in a timely, professional, and honest manner. Our technicians go through a thorough training process to ensure that they will provide only the best service.
Emergency Furnace Repair for St. Louis Residents
Furnace repair is a very serious matter and not something that we take lightly. That means no matter when a repair is needed, or even the weather conditions we will get it fixed for you. If you don't have a working furnace in the very cold or even freezing temperatures, more than your comfort could be in trouble. If your furnace goes down, that leaves a chance that your pipes may freeze leaving you with no clean, running water. Or even worse, your pipes may burst which will require you to then replace them. More importantly, very low temperatures and extremely dangerous to you and your family. Pneumonia, hypothermia and certain cardiovascular diseases can start as just a common cold. All of which require immediate medical attention.
If your Furnace or HVAC is not working, follow these steps:
Make sure the thermostat is connected properly and batteries are good
Check to make sure that your furnace is lit and on
If still not working, call us immediately at 636-230-5572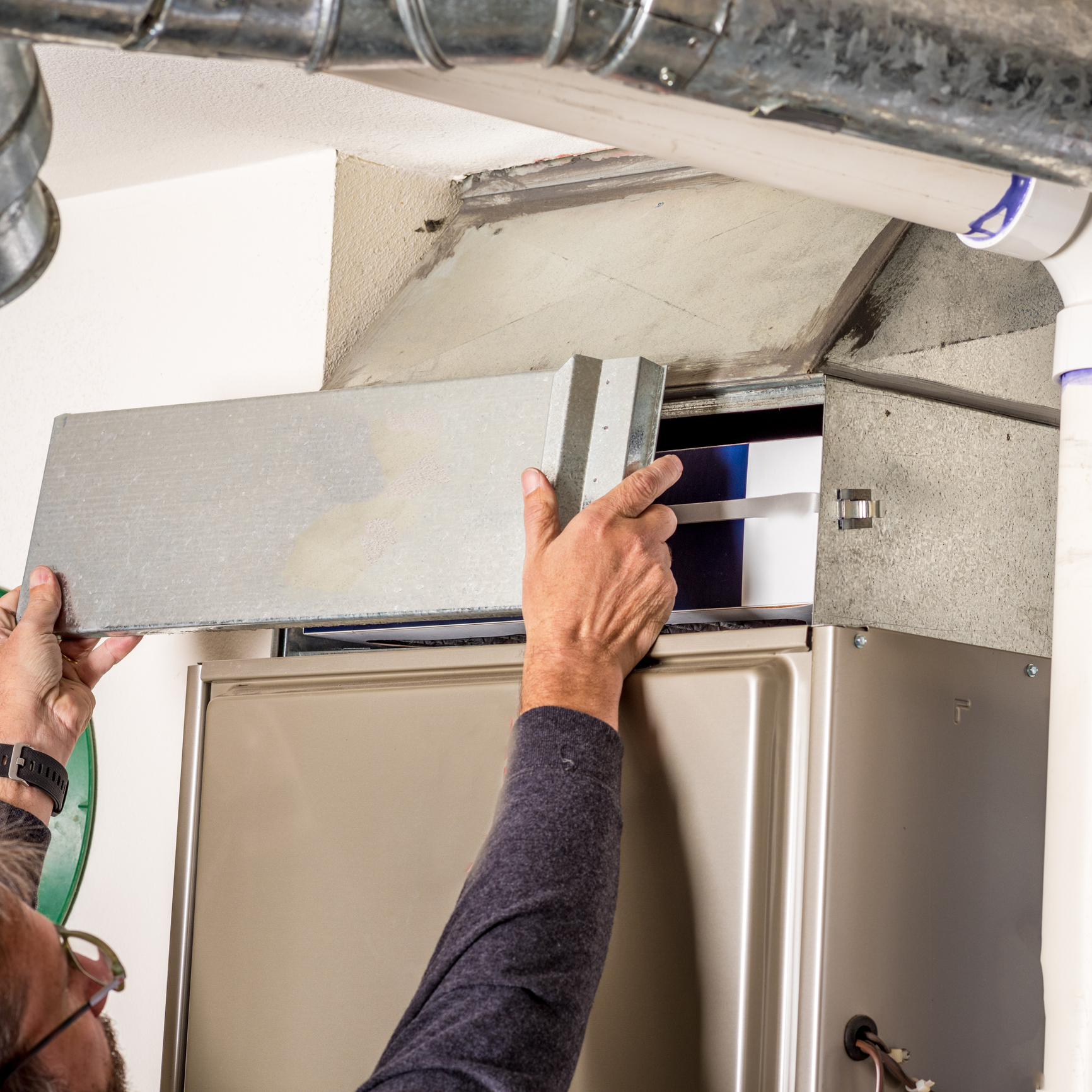 Why You Should Schedule a Furnace Repair Service in Ballwin, MO
Stay warm throughout the year with a fully restored and maintained furnace. Whether you think you have a damaged furnace or are looking for ways to maintain your HVAC system, find out how you can benefit from furnace repair Ballwin MO. Turn to a trusted team in your area for prompt inspections and reliable repairs.
Signs You Need Your HVAC System Inspected
Consider having your furnace inspected at least once a year to ensure it's still running properly and doesn't have any maintenance tasks that need to be performed. Beyond a yearly inspection, here are some key signs that you may need to schedule an inspection or repair service:
You hear unusual noises
Your home isn't warming up
The furnace blower won't start or stop
Unusual noises could be grinding, squealing, clanking or other issues. Some are caused by a lack of lubricant, while others are caused by corrosion. You may even have debris in your furnace that's preventing the blower from operating safely.
No heat is a serious issue. If the blower is turning on but you don't feel warm air coming from the vents, then it's time to call a professional. Wait a few minutes before you make the call, because it can take a few minutes as the blower sends air from the vents throughout your home.
Turn your thermostat on and wait for the blower to kick on. If it doesn't start, there may be a serious issue. It's also an issue if the blower won't stop. A particularly cold day may make it take longer than normal for your HVAC system to fully warm up your home, but a blower shouldn't be running around the clock.
These are just the most common signs that you need to make a repair call. There are other situations where a professional should come and check out your furnace, so use your best judgment if you notice an unusual sight, sound, smell or performance features of your HVAC system.
Of course, you don't have to wait until you notice an issue. Consider scheduling an inspection every year or every six months to check out your furnace and other components. Routine inspections include cleaning services and preventative maintenance that can extend the lifetime and/or warranty length of your system.
The Furnace Repair Process
Once you determine there's an issue with your furnace, it's time to call a local professional. A certified HVAC technician is going to thoroughly inspect your furnace, thermostat, ductwork and other HVAC components to diagnose any issue. Here are some common areas they will inspect:
Thermostat: A thermostat issue can prevent your furnace from firing up and warming your home. One of the most basic issues is a thermostat set at the wrong temperature, but the wiring could also be at fault.
Gas valves and lines: A stuck gas valve or leaking line are both serious issues. Keep your home safe by having a professional periodically inspect these lines.
Heat exchanger: This key component prevents fumes from the combustion chamber to circulate around your home, but instead allows heat to transfer to clean, filtered air. A damaged heat exchanger may cause carbon monoxide to build up in your home.
Blower motor: This powerful motor needs to be regularly lubricated and inspected to continue to blow warm air.
Cold air return: A clogged cold air return can prevent your furnace from working properly.
Ductwork and air vents: Just like a cold air return, the rest of the ductwork needs to be maintained and clear of blockage. Cleaning out these vents can be a difficult job on your own, so reach out to a technician for assistance.
Flue pipe: Another cause of carbon monoxide buildup, a clogged flue pipe is a serious issue that needs to be promptly addressed.
Electrical wiring and breaker: Your furnace blower and thermostat are powered by electricity. A tripped breaker, damaged wire or other electrical issues can prevent your furnace from operating.
Air filter: One of the most basic maintenance tasks on an HVAC system is replacing the air filter. A new filter every 30 to 90 days improves your indoor air quality and extends the lifetime of your furnace system.
These are the most common components to be inspected, but there are more issues that a qualified technician may uncover. Replacing your air filter is a maintenance task you can take on as a homeowner, but other tasks should be performed by a licensed professional.
Types of Heating Systems
These components and maintenance steps are for central furnaces fueled by gas. They're the most common type of heating system, but there are many other styles you may have in your home. Consider which of these heating systems you have in your home:
Hot water boiler
Steam boiler
Heat pump
Space heater
Woodstove
Boilers use radiators and/or baseboard heaters to heat your home. As boiling water or steam is directed through pipes, it heats up radiators and baseboard coils to transfer heat to different rooms in your home.
A heat pump draws heat from the air or from geothermal lines and forces it into your home using a blower. The process works exactly like an air conditioner, only in reverse, so heat pumps are commonly paired with air conditioners.
Space heaters are some of the least efficient heat sources, particularly if you use electricity. They can also be dangerous if improperly installed. They're best used to temporarily heat a small area of a room or home.
Wood stoves and fireplaces use firewood or wood pellets to burn and heat your home. Burning wood to heat your home creates more air pollution around your home than other types of heating, and they can affect your indoor air quality as well.
There are many different styles of these basic types, so discuss your current and future heating decisions with a licensed professional. You may be better off upgrading to a different style of heating rather than continuing to use inefficient technology.
How To Size Your System
Furnaces, water boilers and heat pumps are specially sized for your home. Sizing a system doesn't just take your home's square footage into account, but also considers the amount of insulation and layout. A licensed HVAC technician can assist you in determining the optimal furnace and see if you need one larger or smaller than the existing unit.
A small furnace won't promptly heat your entire home. It may take too much time to get up to temperature and overwork the blower. A furnace that's too large has its own problems. Oversized units heat up too quickly, causing them to short cycle. Short cycling occurs when a heater turns on and off frequently, which can also cause it to wear out quicker than its estimated lifetime.
How a Heating System Can Become Damaged
A properly installed furnace should last 15 to 20 years or more. While there may be minor repair needs before this amount of time, you can typically rely on a maintained heating system to last at least this long.
What happens after 20 years? Heat exchangers, blowers, gas valves, ignitors and other critical parts can become corroded or worn out with use. Some internal electrical wires, baffles, motor belts and seals are difficult and costly to repair, particularly after heavy use.
At this point, it may be better to invest in a new system rather than continue to repair an outdated one. Discuss the pros and cons of replacing vs. repairing your furnace before making your decision.
Dangers of a Damaged Furnace
Most heating systems are designed with enough failsafe devices to prevent any serious damage. There can, however, be a number of hazards if you attempt to use a damaged furnace. Here are some hazards you may face with a damaged heating system:
Carbon monoxide poisoning
House fire
Freezing temperatures
Electrocution
Poor air quality
Carbon monoxide poisoning can occur if there is a clog in the ventilation system, leak in a gas line or crack in the heat exchanger. A house fire is a devastating incident that can be caused by a damaged wire, leaking gas line, debris in the furnace or other issues.
Freezing temperatures may not directly affect your heater, but if your home drops below freezing you could experience frozen water lines. These lines can burst and cause excessive water damage to your property.
Frayed wires can spark and start a house fire. They can also cause serious injury or death if an individual comes in contact with exposed wiring. Modern wiring and breaker panels are designed to minimize this risk, but it remains a risk with improperly maintained systems. This is particularly true of outdated furnaces.
Benefits of a Modern Furnace
While you could continue to maintain your furnace, there are some key benefits of updating your heating system. Consider investing in a new system to enjoy these benefits in your home:
Improved air quality: HEPA filtration and other technologies have made heating systems more effective at reducing airborne contaminants.
Increased airflow consistency: Set up zones in your home, install additional vents or use a variable-speed motor to alter the airflow of your heating system. All of these features aim at reducing cold spots throughout your home.
Reduced energy bills: Variable-speed motors and new ductwork designs also reduce the amount of fuel and electricity required to heat your home.
Improved safety: A new furnace won't have the same corrosion and contamination as your old system may have. Years of use can create issues throughout a furnace you may not even be aware of, so a newer unit is less likely to cause a fire, gas leak or other hazards.
Tailor your furnace and thermostat to match your situation. Not only can you enjoy a properly sized furnace, but you can upgrade your thermostat to include programmable features. A smart thermostat helps you take charge of your HVAC system and look for warning signs right from your smartphone.
How To Compare Local HVAC Companies
When it's time to schedule an inspection, how do you know which company will provide the best services at the best cost? Don't schedule the first company you happen to see, but take your time and compare HVAC teams in your area. Here are some key aspects of a leading HVAC company:
Great customer reviews
Years of service
Around-the-clock support
Affordable price
Warranty or other guarantees of service
Financing options
Just like any other business or service, a number of great customer reviews is key to finding the right HVAC team in Missouri. You can't believe every review you see online, but you should expect a company to have a consistent number of high ratings and positive reviews.
Ask to hear from local homeowners or see who your neighbors have hired to inspect and repair their furnaces. A new technician may know a lot about furnaces, but you'll probably enjoy more peace of mind when you choose a technician with a track record of reliable service.
A furnace can fail at any point, so don't wait until the office is open to call a technician. Reliable companies offer 24/7 support for emergency service calls. These may cost more than scheduled maintenance visits, but both should be competitively priced.
Look for a company that offers a 100% satisfaction guarantee or other commitment. Whether it's a specific warranty or a promise of quality work, be sure you're choosing a company that will stand by its work.
You can't always prepare for a sudden furnace issue, so you may not have the available funds to pay for a full furnace replacement. Don't let this stop you from investing in the system you deserve. A reliable HVAC company should offer financing for major or minor repairs.
Schedule a Comprehensive Inspection in Ballwin, MO
From a full furnace replacement to a routine maintenance call, Advantage Air is a leading HVAC company in st. Louis, MO. Contact us today to schedule a maintenance visit or emergency service call. Keep your home warm and comfortable throughout the year with a quality system serviced by a team of local experts.